Live Report – The Drums au Trabendo (Paris) le 17/11/2014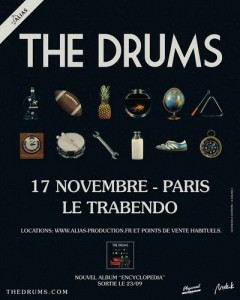 Les Drums sont de retours à Paris pour nous présenter leur 3ème album intitulé Encyclopedia. Proche de la rupture suite aux départs de deux de ses membres, le groupe, désormais réduit au duo Johnny Pierce (chant) et Jacob Graham (guitare et synthé), tient à nous prouver que leur romantique cold-wave a encore de belles années devant elle.
Il serait erroné de dire que les Drums surfent toujours sur la vague de la coolitude hipster, étiquette qu'on leur avait soigneusement collée lors de leurs débuts en 2009 avec la sortie de l'EP Summertime. En opposition avec la légèreté de leurs précédentes compositions, la noirceur de leur dernier album a pu dérouter bon nombre de leurs fans qui ont depuis décroché au changement artistique adopté par le duo. Pas un problème pour le groupe qui pense que ce tri naturel va leur permettre d'affermir une base de fans solide et attachée à leur projet.
La salle du Trabendo n'est pas tout à fait pleine ce lundi 17 novembre pour accueillir les New-Yorkais. Après une intro hasardeuse composée de Bell Laboratories et Let Me, les titres convaincants de leurs deux premiers albums s'enchaînent avec dynamisme, dans le désordre : Me and The Moon, Book Of Stories, Best Friend, l'addictif Moneyou le merveilleux Days… Les morceaux d'Encyclopedia comme I Can't Pretend ou Kiss Me Again se fondent très bien dans l'ensemble et Face Of God se révèle plutôt convaincante sur scène. On reprend malgré tout nos esprits par moment avec l'ennuyeuse ballade US National Park (un des titres préférés du groupe), I Hope Time Doesn't Change Him légèrement plus réussie ou le titre I Need A Doctor, plaisant mais assez répétitif.
Rappel enfievré
Le rappel sonne comme une évidence et enfièvre l'audience grâce à l'infaillible Forever and Ever Amen et leur tube Le'ts Go Surfing qu'une partie de la salle attendait depuis de longues minutes. Le groupe termine ce rappel, où ne figureront que des titres de leur premier album éponyme, avec la ballade Down By The Water, reprise en chœur par le public.
La présence scénique de Johnny (pourtant inhabituellement calme et intervenant assez peu avec son public ce soir là) a complètement éclipsé le reste du groupe, symboliquement noyé dans une fumée épaisse à l'exception de Jacob évidemment. Malgré cela, Les Drums ont livré une prestation sincère et séduisante avec pour attribut une setlist très bien maîtrisée.

Pour suivre les news de rock indé, suivez Merseyside sur Facebook :