Beck et The GOASTT au Zénith – Live Report et Setlist (Paris 11 septembre 2014)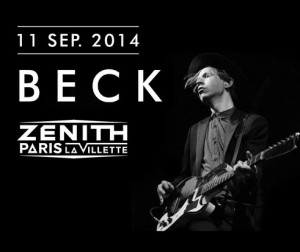 Beck est un ovni musical. Et talentueux. Capable de passer de chansons folk douces à des délires électro voire hip-hop en passant par des pépites rock, l'homme sait tout faire et le fait bien. Cette date unique en France n'a fait que confirmer ses capacités à embarquer son public dans un bric à brac touche à tout aussi bien rodé que plaisant. 
Entouré des musiciens avec lesquels il avait enregistré Mellowgold qui le propulsa sur le devant de la scène avec Loser, Beck a autant le talent que la légitimité de faire ce qui lui plaît. Son dernier album Morning Phase est calme, très calme, et donc risqué pour caracoler en tête des ventes. Mais ce n'est pas ce que cherche l'américain qui n'hésitera pas à jouer plusieurs titres d'affilée (Unforgiven, Heart is A Cause). Ce qui pourrait vite tourner à la chienlit se transforme en un véritable voyage sonore où la voix de Beck dévoile, si toutefois il fallait encore le prouver, une puissance vocale impressionnante. Même s'il faut avouer que ce sera le passage creux du concert. D'ailleurs, comme un signe, Beck enlève son chapeau pour les morceaux acoustiques au son parfois brouillon (voix bourdonnante, saturation). Le californien semble d'ailleurs se plaindre discrètement de problèmes de micro et son guitariste en profite pour lancer un Tropicalia bossa nova acoustique parfait. On se demande s'il était réellement prévu sur la setlist vu qu'il n'a été pas joué sur les autres concerts de la tournée. La dernière fois qu'il a joué ce morceau, c'était en novembre 2013 au Brésil. tant mieux pour nous !
Allant puiser dans sa très complète discographie (10 albums en 20 ans de carrière, sans compter les projets indépendants), Beck a cette fougueuse capacité à transformer un zénith en grand chapiteau de la fête en déballant les tubes que sont E-Pro (s'inventant même guitar hero en intro), Beercan ou l'inévitable Sexx Laws annoncé en rappel par son bassiste chauffeur de salle, sosie presque parfait d'un mélange de Guillaume Gallienne et Eric Antoine !
De la même façon, il avait commencé le concert par les incontournables Devil's Haircut, Black Tambourine ou Loser. Hell Yes et son électro hip hop n'est, quant à lui pas sans rappeler l'univers de Gorillaz. Il termine en déroulant un ruban jaune « Crime scene, do not cross » sur la totalité de la scène avant de revenir sur une note très crooner avec Debra permettant de se lancer sur une présentation amusante de ses musiciens ponctuée de medley divers (Miss You des Rolling Stones, Billie Jean…) sur fond de Where It's At, un tube bien rodé de l' album Odelay. Presque 2 heures de concert, on est vannés.
The GOASTT, alias The Ghost of a Saber Tooth Tiger
Faut-il le rappeler, The Goastt est le groupe formé par Sean Lennon, le fils de John et Yoko, et sa compagne Charlotte Kemp Muhl. La présence de The Goastt en première partie de Beck a encore plus motivé notre présence ce soir. Pour être très honnête, l'album de The Goastt sorti en avril dernier fait partie de ce qui nous a le plus enthousiasmé cette année. On retrouve dans ce groupe des ambiances alambiquées, des tourbillons psyché, des sons qui semblent sortir d'un vieux grimoire qu'on dépoussière pour y trouver les meilleures recettes. Cette première partie tiens d'ailleurs toutes ses promesses tant le duo, accompagné d'excellents musiciens, nous plonge dans son univers magique. L'entrée en matière sur Too Deep et son duo basse/batterie presque baggy nous met directement dans l'ambiance. Le son est lourd et puissant, parfaitement en place. Le druide Sean (cheveux longs, chapeau pointu) mène rondement ce petit monde sur des solos de guitare dignes des années 70. L'ombre des Beatles trône en maître, avec ce batteur moustachu aux faux airs de ringo Starr, sur les superbes morceaux que sont Midnight Sun ou Animals et surtout sur Poor Paul Getty. Le son monte en puissance au fil du concert pendant que le zénith se remplit. Sean prend un malin plaisir à parler français, et plutôt bien. Excellent moment.
Setlist Beck au zénith de Paris le 11 septembre 2014
Devil's Haircut
Black Tambourine
Loser
The New Pollution
Blue Moon
Gamma Ray
Hell Yes
Think I'm in Love
Tropicalia
Soul of a Man
Get Real Paid
Lost Cause
Unforgiven
Heart Is a Drum
Paper Tiger
Wave
Waking Light
Girl
Timebomb
E-Pro
—
Sexx Laws
Debra
Where It's At

Pour suivre les news de rock indé, suivez Merseyside sur Facebook :