Avi Buffalo – At Best Cuckold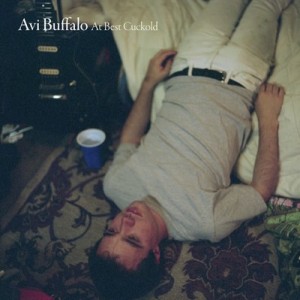 Avi Buffalo est un groupe californien qui tourne autour de son leader Avi Zahner-Isenberg. Ce dernier nous avait déjà bluffé il y a 4 ans avec un album mélancolique à la maîtrise parfaite porté par le magnifique What's In It For. De retour avec son deuxième album, le groupe confirme un songwriting et un sens des arrangements magnifiques.
Si le single inaugural So What peut décevoir par son côté répétitif (4 mesures, soit 16 « So Whaaaaat » à la suite), le reste de l'album s'inscrit dans une torpeur réjouissante, une sorte de cuteness comme disent les américains, qui a de quoi réjouir, ou faire pleurer les plus sensibles. Memories of You, son shaker discret et son très beau solo 60's ou les titres les plus énergiques que sont Can't Be Too Responsible ou Found Blind rythment magnifiquement cet album qui peut pourtant parfois nous plonger dans une surrenchère d'arrangements.
L'ensemble reste globalement calme, planant et mélancolique, à l'instar de son Two Cherished Undersatnding et son intro à la Knocking on Heaven's Door et un Overwhelmed With Pride qui reste sans doute le point d'orgue de cet album avec son intro façon Elliott Smith, son orgue qui monte en puissance progressivement et sa batterie discrète. Tel un Mercury Rev des années 2010 ou des Smith Westerns qui auraient poussé plus loin les arrangements, Avi Buffalo régale par cette deuxième production qui s'inscrit dans les plus belles galettes de cette année 2014.

Pour suivre les news de rock indé, suivez Merseyside sur Facebook :
http://www.facebook.com/merseysideband