Lee Ranaldo à la Machine du Moulin Rouge – Live Report et Setlist (Paris 27 mai 2014)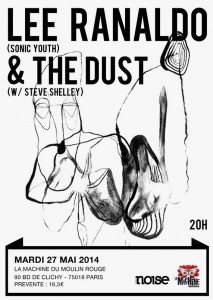 Lee Ranaldo and The Dust, c'est la moitié de Sonic Youth, et ça se ressent ! De passage hier à la Machine du Moulin Rouge, le quartet a joué ses deux derniers albums lors d'un excellent set au son parfait et aux expérimentations sonores rondement menées.
Il y avait beaucoup de concerts à Paris ce soir : Black Lips au Nouveau Casino, Crocodiles au Point Ephémère,  Jeff beck au Grand Rex pour les vieux rockeurs, Joseph Arthur au Trabendo, mais aussi Lee Ranaldo And The Dust à La Machine du Moulin Rouge. On a choisi Lee Ranaldo parce que le gaillard est passé plusieurs fois à Paris sans que nous ne soyons de la partie, et on n'a pas regretté !
30 ans de rock bruitiste
Accompagné par Steve Shelley, le batteur de Sonic Youth, d'un guitariste discret mais efficace et d'un bassiste aux faux airs de Lou Barlow (Dinosaur Jr., Sebadoh), Lee Ranaldo And The Dust ont principalement joué des morceaux des deux derniers albums. Et il n'y a pas à dire : 30 ans de carrière, ça envoie sur scène ! Lee Ranaldo n'est pas le gratteux bruitiste que l'on pourrait imaginer. Ou en tous cas, pas que le gratteux bruitiste. A l'image de ses deux derniers albums très réussis, l'ami Ranaldo réussit un parfait mélange entre des mélodies impeccables et des séquences pouvant dériver vers des dédales sonores hyper travaillés. Car ce qui frappe, c'est la maîtrise totale du quartet sur scène. Un groupe inexpérimenté tomberait rapidement dans le piège du rock larsen là où Ranaldo et ses compères parviennent à exprimer tout leur talent.
Fin du monde…
Le set commence par le génial Ambulancer qui sera malheureusement entaché par de sérieux problèmes de micro sur une bonne partie du début. C'est simple, on n'entendait pas la voix ! Dommage car le son est excellent. On distingue parfaitement les parties de guitares, le son, bien que volontairement saturé, est très clair et admirablement équilibré. Bravo la Machine !
Ce son parfait servira idéalement la suite du concert. La setlist va piocher dans les deux derniers albums. Avant de lancer Last Night On Earth, Lee Ranaldo nous explique que cette chanson à été écrite lors de la tempête qui s'est abattue sur New York qui s'est retrouvée sans électricité pendant une semaine. Une ambiance de fin du monde en effet. Sur Lecce/Leaving, Lee Ranaldo va chercher des maracas en fer pour agrémenter l'expérience sonore bruitiste un peu plus loin encore. Il n'hésite pas à utiliser différents objets au cours du concert pour tenter des choses surprenantes : jouer avec un archet, avec son iPhone ! Steve Shelley est impeccable à la batterie, n'hésitant pas à taper sur ses fûts ou à les caresser délicatement pendant que les guitaristes jouent avec leurs pédales. Le groupe nous livre une admirable reprise Mannequin de Wire, ce groupe punk anglais de la fin des années 70. Après 1h45 de set impeccable, Lee Ranaldo invite tout le monde à se retrouver au merchandising pour acheter des disques et discuter le bout de gras. Très bon enfant.
Merci à nouveau à La Machine du Moulin Rouge pour cette très belle programmation et le son excellent.

Pour suivre les news de rock indé, suivez Merseyside sur Facebook :
http://www.facebook.com/merseysideband
Setlist lee Ranaldo And The Dust