2×1 places à gagner pour Lee Ranaldo And The Dust à La Machine du Moulin Rouge le 27/05/14 [Concours terminé]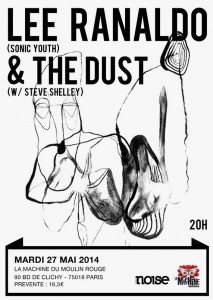 Le guitariste de Sonic Youth Lee Ranaldo continue son aventure désormais en solo en sortant de magnifiques albums. Il sera en concert le 27 mai 2014 en concert à la Machine du Moulin Rouge. Merseyside et La Machine vous offrent 2 places ! 
Vous le savez, on adore Lee Ranaldo sur ce blog. Depuis la fin de Sonic Youth, le guitariste a su trouver une recette qui fait  mouche, à base de belles chansons pop qui ne renient pourtant pas les influences bruitistes qu'il a su insuffler chez Sonic Youth. Il est de passage à Paris avec son groupe, The Dust avec Steve Shelley, batteur de Sonic Youth derrière les fûts, et on ne compte pas rater ça. Si vous voulez aussi être de la partie, vous pouvez tenter votre chance ci-dessous.
Pour plus de détails, voici la page de l'événement.

Pour suivre les news de rock indé, suivez Merseyside sur Facebook :