Lee Ranaldo And The Dust – Last Night On Earth
Lee Ranaldo, guitariste de feu Sonic Youth, dévoile son nouvel album solo, un peu plus d'un an après le mémorable Between The Time and the Tide. 9 morceaux qui confirment ses qualités indéniables de songwriting rock.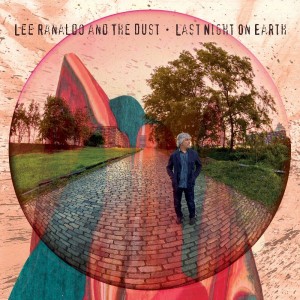 Rassurez-vous vous, vous en aurez pour votre argent avec les neuf morceaux puisqu'ils durent presque tous entre 7 et 10 minutes, l'album dure plus d'une heure. De quoi décourager l'auditeur novice ? Pas vraiment… Que vous aimiez/connaissiez ou non Sonic Youth, c'est en tant qu'artiste à part entière qu'il faut considérer Lee Ranaldo.
Le plupart des morceaux regroupent de nombreuses pistes sonores, plusieurs parties : le côté pop et le côté obscur de Ranaldo. A commencer par Lecce, leaving composition pop par excellence, couplet/refrain, mais là où beaucoup se seraient arrêtés aux 3 minutes réglementaires, Ranaldo fait surgir son côté noisy plein de trouvailles. Commence alors quasiment un deuxième morceau où les riffs endiablés et la batterie se veulent volontairement beaucoup plus agressifs, sans pour autant livrer des larsen ou bruits gratuits, loin de là. Tout est dans la composition.
De nombreux morceaux suivront cette structure : Key/Hole, By The Window, l'impressionnant Blackt Out de clôture et ses 11 minutes au final assez expérimental.
L'album révèle aussi son côté sombre, avec une basse lourde, une noirceur certaine (Home Chs) et quelques douceurs plus acoustiques (Late Descend #2 et son clavecin baroque, ou même certains solos de Ambulancer, l'un des titres les plus réussis et accrocheurs).
Même si le groupe s'appelle bien Lee Ranaldo And The Dust, l'ingénieux guitariste continue de dépoussiérer les cendres de sa jeunesse sonique pendant que Kim Gordon mutile son corps et sa tête (son nouveau et inaudible projet s'appelle Body/Head) et que Thurston Moore continue à trifouiller les larsen de son nouveau groupe, Chelsea Light Moving. Ici, on a choisi notre disque pour la dernière nuit sur terre…

Pour suivre les news de rock indé, suivez Merseyside sur Facebook :