The Pains of Being Pure At Heart – Days of Abandon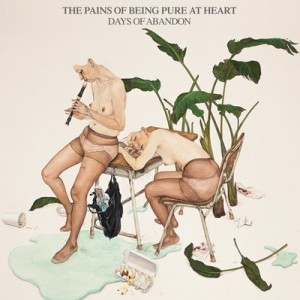 Troisième album en 5 ans pour les New Yorkais de The Pains Of Being Pure At Heart. Beau rendement, mais le groupe convainc de moins en moins. Ce nouvel album très 80's surprend par sa banalité et son sens du pompage. Dommage.
Le Art Smock inaugural donne la tonalité : c'est mou et on peine à s'enthousiasmer sur le nouvel album qui manque franchement d'inspiration et de dynamisme. Si le groupe semble avoir mis de côté le shoegaze tant apprécié du premier album en allant puiser dans les années 80, il ne fait que plagier allègrement chez ses aînés au lieu d'innover. Ainsi l'agréable Kelly ressemble à s'y méprendre à This Charming Man des Smiths (Masokissed semble également vouloir plus que jamais célébrer les Smiths).
Until The Sun Explodes est un pompage royal de Just Like Heaven de Cure avant que le refrain n'éclate.

Pour comparer (écoutez à la seconde 50) :

Des références très plaisantes me direz-vous ? Oui, sauf qu'on attend un peu plus d'innovation. Cerise sur le gâteau, The Asp At My Chest semble avoir piqué son intro à Titanic ! Quelques morceaux semblent vouloir sortir la tête de l'eau à l'image de Beautiful You ou Eurydice mais restent finalement très formatés. Loin d'être désagréable, Days of Abandon est un album plat au doux parfum de banalité. The pain of being new en some… malgré tout, on reste pourtant très attaché à ce groupe.
N'oubliez pas qu'on vous fait gagner des places pour leur concert du 9 juin à Paris sur ce lien.

Pour suivre les news de rock indé, suivez Merseyside sur Facebook :