The Pains Of Being Pure At Heart, le revival shoegazing
Le coup de coeur du mois s'appelle The Pains Of Being Pure At Heart. Un nom pas facile à retenir qui nous fait revivre 20 ans en arrière, au beau milieu de la période shoegazing des groupes anglais. Quoique… se limiter à ce mouvement serait assez réducteur tant The Pains Of Being Pure At Heart va puiser dans de larges ressources.
La face cachée de l'Atlantique
On arrive généralement à identifier l'origine géographique d'un groupe par sa musique. Mais finalement, les apparences sont trompeuses. Souvenez-vous par exemple des Dandy Warhols qu'on aurait imaginé sortis tout droit d'un pub anglais alors que leur QG d'origine était à Portland aux Etats-Unis. La méfiance est de rigueur, et The Pains Of Being Pure At Heart confirme cette exception.
A l'instar de Music Is Not Fun, groupe français né du mauvais côté de Manche, The Pains Of Being Pure At Heart est un groupe new-yorkais qui semble né du mauvais côté de l'Atlantique ! Ce jeune quatuor offre des chansons du meilleur goût avec une facilité déconcertante alternant des passages noisy à des mélodies envoûtantes comme savent le faire Nirvana, Sonic Youth ou encore l'excellent groupe écossais Teenage Fanclub. C'est d'ailleurs plutôt du côté britannique qu'on trouve les influences de The Pains Of Being Pure At Heart. On pense spontanément à Jesus & Mary Chain, à Teenage Fanclub, aux Smiths et surtout aux groupes qui ont fait la petite notoriété du label britannique Sarah Records.
Sarah Records
Ce label créé en 1987 à Bristol a marqué son époque de par sa vocation à défendre les 45 tours vinyle et une démarche artisanale et anti-commerciale de promotion de groupes indépendant qui privilégiaient la spontanéïté plutôt que le business. Ce label a contribué à la notoriété de groupes pop comme The Sea Urchins, The Orchids ou, plus « connu », The Field Mice, lui-même groupe phare du mouvement « twee pop » (au même titre que Beat Happening aux Etats-Unis ou Belle And Sebastian aujourd'hui en Grande-Bretagne).
Melting pop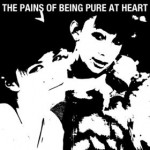 Revenons plus précisément à nos moutons de The Pains of Being Pure At Heart. Leur premier album est sorti en mars 2009 sans réel écho en France. Dommage tant le son jubilatoire de nos quatre lascars nous entraîne dans le meilleur du rock noisy des années 90. Début plutôt sobre avec Contender, un titre presque sans percus mais qui ne fait qu'annoncer une suite ravageuse où le quatuor nous invite à les rejoindre samedi (Come Saturday, sans doute un des meilleurs titres de l'album). Le reste aligne des riffs puissant bourrés de références : This Love Is Fucking Right en référence à This Love Is Not Wrong de The Field Mice justement, The Tenure Itch qui commence comme une intro des Chameleons où vient se greffer une voix à la Ian Brown, Everything With You qui lorgne du côté de Teenage Fanclub, A Teenager In Love qui semble sortie tout droit de Strangeways, Here We Come des Smiths ou Hey Paul qui ne cache pas son affiliation à Jesus & Mary Chain. Oui, les références de bon goût s'enchaînent à gogo sur ce disque.
Un EP avec un titre un peu plus rétro (Higher Than The Stars) est sorti en septembre 2009 avec notamment un remix par le groupe électro Saint Etienne.
Concerts à venir
The Pains of Being Pure At Heart passeront par Poitiers le 21 novembre et Paris le 22 novembre, au Point Ephémère (dommage pour les retardataires, c'est déjà complet). Ils viendront également le lendemain chez Bernard Lenoir en Black Session, retransmise en direct de 22h à 23h sur France Inter, évidemment. Inutile de vous dire qu'on y sera !
Numéro spécial de Magic! sur Sarah Records avec The Pains Of Being Pure At Heart en couverture.
The Pains Of Being Pure At Heart sur MySpace
S'inscrire à la Black Session (gratuit) sur France Inter (fin des inscriptions le 18/11 à 16h)