Blur : No Distance Left To Run en salles le 19 janvier 2010
Alors que le blog Merseyside venait à peine de voir le jour, le groupe phare de la pop britannique Blur faisait son retour sur scène cet été pour quelques concerts très prisés… et bien calculés. Aujourd'hui, c'est la bande annonce d'un prochain film à sortir en janvier qui refait surface : No Distance Left To Run.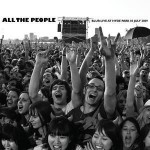 Bizarre de ne pas avoir encore parlé de Blur sur ce blog, c'est désormais corrigé ! Contrairement à tous les « vieux » groupes qui remontent sur scène, Blur ne semble pas vouloir jouer au jeu de la reformation plus longtemps que le temps d'une tournée. Damon Albarn est suffisamment occupé par la prochaine sortie du nouvel album de Gorillaz (Plastic Beach), Graham Coxon s'amuse en première partie Pete Doherty, Alex James flirte avec Bernard Sumner de New Order Bad Lieutenant et Dave Rowntree est déjà bien chargé avec ses activités au sein du Labour. Ca n'empêche pas le quatuor de Colchester de garder le sens du business avec un album live issu du concert donné à Hyde Park, sobrement intitulé All the People… live at Hyde Park prévu dans les bacs français le 4 décembre prochain.
Parce que le business passe aussi par la vidéo, les tournées estivales de notre combo favori donnent naissance à un film qui sortira sur les écrans britanniques le 19 janvier 2010 sous le nom de code No Distance Left To Run. Ce documentaire retrace les premières répétitions de la reformation du groupe jusqu'aux concerts de cet été. Frustant pour nous autres, pauvres froggies qui ne bénéficierons pas de cette projection. On parie que le DVD arrive peu après ?
Allez, un petit trailer d'excellente qualité pour se consoler. De toute façon, on se dit qu'il vaut mieux encore miser sur Blur que sur les défunts Oasis…
Mise à jour (28/12/09) : le film, initialement prévu uniquement dans les salles britanniques, sortira finalement en France dans 10 salles. Enfin… quand on voit les salles, c'est un peu comme s'il ne sortait qu'en Grande-Bretagne finalement… :
MEGA AMC Torcy
MEGA CGR Brignais
MEGA CGR Bruay La Buissiere
MEGA CGR Cherbourg
MEGA CGR Epinay Sur Seine
MEGA CGR Evry
MEGA CGR La Meziere
MEGA CGR Lanester
MEGA CGR Mantes La Jolie
MEGA CGR Villenave D'Ornon
Toutes les infos de la diffusion sur ce lien.