Boreal Wood – 26 EP – Dreampop shoegaze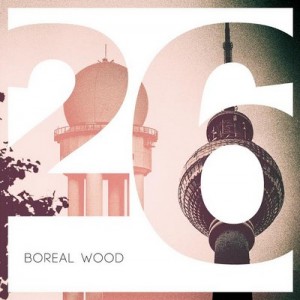 Boreal Wood, c'est un duo avec l'étiquette de qualité Toolong Records, ce label de Toulon que l'on suit depuis quelques temps. Figure « shoegaze » du label, Boreal Wood nous avait conquis avec quelques morceaux ça et là, laissant présager une livraison plus costaude. Et justement nous y voilà avec cet EP très prometteur.
Le duo n'a pas eu froid aux yeux en voulant donner une touche aérienne à ses morceaux et s'est dit : « Et si on contactait Robin Guthrie ? » (guitariste fondateur des Cocteau Twins, également producteur du premier album de Lush, Spooky). Et bim, les voilà partis avec d'excellentes compositions qui trouveront en la personne de Robin Guthrie l'écho pafait. « 26 » est un EP oscillant entre les Cocteau Twins et Cure ou évoquant de récents projets comme The Depreciation Guild, le side project des membres des Pains of Peing Pure At Heart. Cet EP dévoile au grand jour les capacités et le talent d'un groupe qui commence, à juste titre, à faire parler de lui sur la toile. C'est amplement mérité et on ne peut que s'en réjouir.
Boreal Wood sera en concert le 15 décembre au Midi Festival aux côté de Isaac Delusion.

Pour suivre les news de rock indé, suivez Merseyside sur Facebook :