Live Report – The Vaselines à L'Aéronef de Lille le 17/11/2014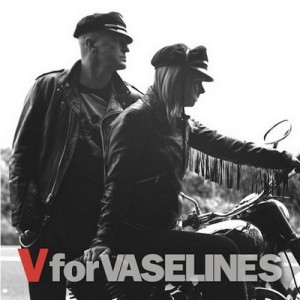 Le duo The Vaselines, adulé jadis par Kurt Cobain, était de passage dans la petite salle de l'Aéronef de Lille avant leur passage parisien. Un concert aussi rock que familial et bon enfant.
La première partie était assurée par le duo américain de Kansas City au nom allemand Schwervon, livrant un show tout à fait plaisant oscillant entre les Kills et les Raveonettes, la voix de la batteuse aidant. Le chanteur semble lorgner vers les intonations de Jason Lytle de Grandaddy. Certains morceaux nous ont rappelé un vieux groupe oublié : Marcy Playground et son morceau phare « Sex & Candy« . Une basse en plus du duo guitare/batterie n'aurait pas été de trop.
Les Vaselines arrivent sur scène vers 21h35. Eugene Kelly, membre fondateur, ressemble à s'y méprendre à Dominique A. Mais non, il s'agit bien des Vaselines avec la très sympathique Frances McKee et son accent écossais. Le groupe entamme avec High Tide Low Tide, titre inaugural du dernier album. Frances n'est pas dupe quand elle demande à la salle « Who bought our new record?« . Une main se lève dans la foule et Frances nous menace avec amusement d'une fessée sur scène pour ceux qui n'ont pas acheté l'album. Eh oui, les temps sont durs pour les petits groupes, Frances assurant d'ailleurs avant et après le merchandising.
Le premier et incontournable premier album sera amplement à l'honneur sur un set bien rock sur fond de bonhomie apparente. Eugene et Frances affichent une complicité certaine et un plaisir de joué non dissimulé dont on ne peut que se réjouir. Cette dernière est d'ailleurs plutôt boute-en-train et communique avec le public, dans lequel se trouve Nan Turner, la batteuse de Schwervon qu'elle interpelle au micro : « Nan, we need you on the nex one« . En effet, une chanson plus tard sur l'imparable Molly's Lips débarquent les deux membres de Schwervon pour jouer de façon peu rassurée mais plutôt hilare les klaxons indissociables de ce morceau. Ici la version, non pas avec Schwervon, mais avec Nirvana :
Les courts morceaux s'enchaînent, on apprécie le jeu de lumière profond sur The Devil's Inside Me ou les blagues de Frances sur I Hate The 80's. On passe évidemment par Jesus Don't Want Me For A Sunbeam que le groupe revisite de façon presque country, mais plutôt réussie. Le duo nous remercie d'être venu un lundi soir et termine son rappel par le très rock Dum Dum, clôturant ainsi un set très agréable, familial et pourtant bien rock'n'roll. Oui les Vaselines glissent toujours !

Pour suivre les news de rock indé, suivez Merseyside sur Facebook :