Brother James, coup de coeur sur un premier album de rock bruitiste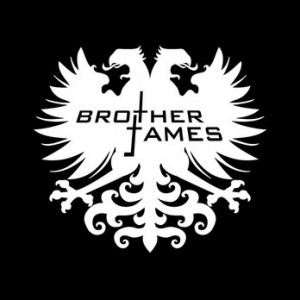 On a interviewé il y a quelques semaines du groupe bruitiste Brother James qui nous parlait de sa passion pour Sonic Youth. Retour sur leur premier album produit par le guitariste d'Appletop. Un très gros coup de coeur.
Sorti plus ou moins au même moment que le chef d'oeuvre de Thurston Moore The Best Day, Brother James est l'une des très belles surprises de cette rentrée. A cheval entre Sonic Youth (forcément) et Stuck In The Sound, l'album s'ouvre sur Little Princess, un titre qui monte en puissance pendant deux minutes trente sur des riffs saturés avant de dévoiler une voix volontairement un peu en retrait. Le morceau à la structure pourtant réfléchie,  peut surprendre. Les guitares s'effacent pour laisser la batterie échanger avec des sons venus d'ailleurs. Intriguant. Neptun ne laisse aucun répit et nous renvoie une distorsion en pleine figure, que l'on prend bien volontiers et que l'on retrouvera sur la plupart des morceaux de l'album comme sur la fin de Uranism, avec ses influences Pavement au chant.
Les dissonances vont bon train (Esmeralda, Pegasus), pour notre plus grand plaisir, et si les quelques morceaux calmes semblent nous laisser un peu le temps de souffler (Sister Therese et son passage presque Queens Of the Stone Age), les guitares déstructurées reprennent vite le dessus à l'image d'un Spootnik au déluge basse/batterie dévastateur. L'ombre de Mogwaï rôde aussi discrètement (Shellac, Pegasus) laissant bien comprendre à l'auditeur averti qu'il n'y a aucune route directe. Tout est magistralement arrangé pour nous laisser nous perdre dans des dédales sonores aussi bruitistes que réjouissants à l'image de cette montée en puissance stressante de Pegasus. Brother James est assurément un coup de coeur de cette rentrée… à écouter très fort !

Pour suivre les news de rock indé, suivez Merseyside sur Facebook :