The Drums – Encyclopedia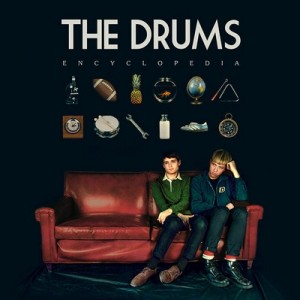 Autrefois hype catchy, The Drums semblent accuser le coup de leur line-up changeant en creusant l'image d'un duo emprunté et moins inspiré.
Rapidement qualifiés de nouvelle hype venue de Brooklyn lors de la sortie de leur EP Summertime en 2009 comprenant le tubesque Lets Go Surfing, les Drums ont réussi à scruter nos playlists avec des titres catchy, sincères et parfois ultra-dansants.
Parcours chaotique
Après un premier album éponyme convaincant, The Drums a instauré les prémisses d'un virage electro-pop plus sombre en 2012 avec la sortie de Portamento qui a depuis laissé des traces. En effet, le groupe a d'abord perdu son troisième membre, le batteur Connor Hanwick après avoir déjà vu partir le guitariste Adam Kessler en 2010. Au bord de la rupture, le désormais duo composé des amis d'enfance Jonathan Pierce (chanteur) et Jacob Graham (guitariste), a ensuite changé de label et s'est provisoirement séparé pour mieux se retrouver en 2013 à l'écriture d' Encyclopedia.
Moins de tubes, moins d'efficacité
Ce troisième album suit logiquement le changement de trajectoire opéré par Portamento, les tubes en moins. Si certains titres sont encore à la hauteur (I Can't Pretend, Kiss Me Again), le duo semble néanmoins emprunté. Par exemple, la ballade Us National Park réussit à détrôner de mièvrerie Down By The Water du premier album. Quand à Magic Moutain, premier single et pilier présumé d'Encyclopedia, il apparaît peu inspiré et rapidement contrariant. Le son des Drums est toujours aussi identifiable à l'image de la voix de « Johny » mais on ne retrouve pas ici l'efficacité autrefois admirée.
Alors il semble évident que les deux amis s'écartent volontairement peu à peu de la caricature insistante de néo-Beach Boys qui autrefois les caractérisait et misent sur la recrudescence d'une cold-wave électro revendiquée. Malheureusement la magie n'opère plus et on regrette la légèreté des précédents opus, qui sied définitivement mieux au groupe. On se donne rendez-vous mi novembre, date de leur prochain concert parisien, pour espérer pouvoir continuer à se laisser porter par la vague.

Pour suivre les news de rock indé, suivez Merseyside sur Facebook :