The Bewitched Hands – Birds & Drums
Une bande de joyeux lurons dont le seul but est de (se) faire plaisir vient mettre une bouffée d'air frais en cet hiver rigoureux. Bricolages bancals au service de mélodies joyeuses et farfelues sous haute influence pop des années 70 et 90. Champagne !
Connus au départ sous le nom tarabiscoté de ThE bEwItChEd HaNdS oN tHe ToP oF oUr HeAdS, ce sextette originaire de Reims a écumé de nombreuses scènes avant de se faire connaître en version studio. Lauréats du concours CQFD en 2009, ils ont su se faire connaître dans le petit monde du rock indé en reprenant le tube dancefloor Tonight de leur pote Yuksek mais aussi par ce nom aussi long qu'impossible à écrire correctement ! Mais il serait bien réducteur de concentrer l'intérêt du groupe à son seul patronyme, qui a d'ailleurs été tronqué au fil des mois pour des questions de facilité de communication que l'on comprendra aisément.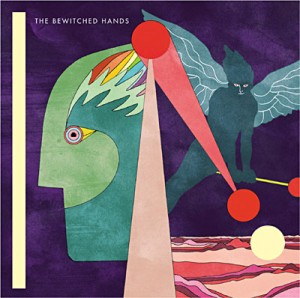 Que faut-il alors retenir de nos 6 rémois ? Que leur pop bricolée pétille autant que leur champagne, que chaque chanson révèle un savoir-faire singulier pourtant rassemblé autour d'un seul et unique but, celui du plaisir. On passe d'une pop psyché fourmillante des années 70 à du Supergrass teinté de glam (So Cool) où des mélodies de hippies autour d'un feu de camp (Birds & Drums) viennent flirter avec les délires punk bruitistes de Graham Coxon (Cold) ayant passé la journée avec I'm From Barcelona (Work). Les détracteurs se réjouiront à critiquer le groupe sur l'argument du « groupe-français-qui-chante-encore-en-anglais ». Et alors ? Nous on s'en fout car une fois sur deux on n'aime pas quand c'est en français, et Birds & Drums est l'un des rares disques d'artiste français à mériter sa place dans les 20 albums que l'on retiendra cette année. Et toc !