Noel Gallagher's High Flying Birds
Noel Gallagher, boss d'Oasis pendant 15 ans, vole désormais de ses propres ailes suite à la séparation d'Oasis. Un album solo plutôt assagi qui fait son boulot sans exalter outre mesure.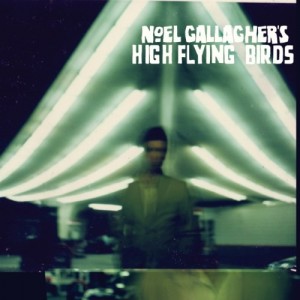 Rock en Seine 2009, les frères Gallagher se crêpent la tignasse dans les coulisses, à quelques minutes de leur montée sur scène. This is rock'n'roll, certes, mais Oasis n'est plus.
Après quelques règlements de comptes à distance, Liam Gallagher a dégainé le premier avec les anciens membres d'Oasis sous le nom de Beady Eye qui a pondu début 2011 un album un peu lourdeau, gonflé aux grosses guitares, et pas franchement novateur malgré quelques morceaux appréciables.
Hasard du calendrier, Noel Gallagher arrive quant à lui au même moment que l'annonce de la reformation des Stone Roses, groupe emblématique de la scène mancunienne sans qui Oasis n'aurait probablement pas existé.
Voyons justement ce que la tête pensante d'Oasis couve sous ses ailes. A vrai dire, rien de très excistant, mais rien de franchement désagréable non plus. Un titre inaugural aux arrangements de cordes à la limite du « too much » où même en solo, Noel ne peut s'empêcher de faire ses propres backing vocals (comme sur I Wanna Live In A Dream), un final excessif en allusion à Oasis (Stop The Clocks était aussi le nom d'une compilation du groupe). Entre les deux, on trouve ce qui aurait pu alimenter le premier album de Hurricane #1 (Aka… Broken Arrow) et des redites du passé : If I Had A Gun commence presque comme Wonderwall, le single The Death Of You And Me ressemble à s'y méprendre à The Importance of Being Idle (et aussi un peu à Underneath The Sky). Côté nouveautés, on notera les trompettes presque jazzy sur Soldier Boys and Jesus Freaks ou la rythmique lorgnant presque vers les délires Madchester sur AKA… What A Life.
Noel Gallagher en 2011
Oasis en 2005
Au final ça donne un album homogène finalement agréable sans être transcendant, qui passe plutôt bien et qui évite les lourdeurs du passé portées par Liam (période Be Here Now par exemple), mais ça manque quand même parfois d'un côté un peu plus rock'n'roll. Mais à 44 ans, Noel s'est calmé, marié, a eu un troisième enfant, a déménagé et a même un chat ! Pour le rock'n'roll, faudra repasser.
Pour ceux qui aiment : Oasis quand Liam ne chante pas et que Noel ne lâche pas un trop gros son de guitare
L'avis de Merseyside

Légende
Coup de cœur / Coup de foudre / Coup de génie

Coup de mou / Coup de poker / Coup de peigne
Coup fourré / Coup de barre / Coup du lapin