Noel Gallagher's High Flying Birds – Chasing Yesterday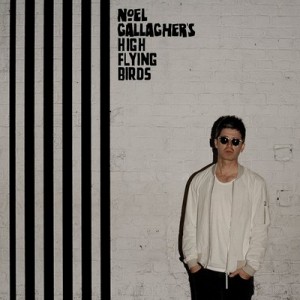 Grand retour de l'aîné des Gallagher pour un deuxième album plaisant à la production raffinée, surfant sans vergogne sur les traces d'un passé glorieux. En tant que fan, on approuve, même si on attend toujours plus du bonhomme…
Une production délicate rondement menée
Comment peut-on ne pas penser à Wonderwall dès les premières notes de The Riverman ? Là on frissonne, de peur que Noel Gallagher ne nous serve une galette au goût de déjà vu. Au final, on ne peut pas dire que tout est radicalement différent, mais ce Chasing Yesterday apporte pourtant son lot d'innovations auxquelles on ne croyait plus.
Si Noel se targue de s'être affranchi d'un producteur pour tout faire lui-même, il faut avouer que la production sert magistralement des compositions honnêtes mais pourtant pas révolutionnaires tant elles évoquent les gloires du passé. Pourtant, avec un son au rendu proche d'un excellent live, l'ami Gallagher délaisse la grosse batterie que l'on a pu connaître par le passé pour donner une touche de légèreté qui rend cet album accrocheur. Aurait-on trouvé la délicatesse de The Right Stuff il y a quelques années ? Les cuivres en arrière plan (piqués à This Is Hardcore de Pulp ? lui-même samplé de Peter Thomas Sound Orchestra), le saxophone, la basse piquée à Come Together des Beatles lui confèrent pourtant un côté attachant.
« Et si j'étais le plus grand musicien de tous les temps ? »
Après avoir lu ou vu quelques interviews du bonhomme, on espère qu'il va nous sortir le meilleur de son chapeau (« Quand j'écoute ce que j'écris, je me dis : « Bordel, je suis un génie. Et si j'étais le plus grand musicien de tous les temps ? » voir l'interview complète). Mais Noel ne peut renier la source de son oasis : la batterie de  The Girl With X-Ray Eyes sonne comme Don't Look Back in Anger, et s'affiche même ensuite comme le cousin de The Masterplan, alors que Lock All The Doors et You Know We Can't Go Back (message subliminal ?) et leur rock direct semblent taillés sur mesure pour Liam. Au rayon des nouveautés, on notera le très stonien The Mexican qui change de ce que l'on a pu entendre jadis. Mais le titre manque franchement de puissance avec ses cuivres au synthé. Franchement Noel, tu ne peux pas te payer de vrais musiciens ? On attend une version plus musclée en live.
Au final, ce bel album au goût de reviens-y (malgré son horrible pochette) innove par une production subtile, quelques arrangements novateurs et des chansons plutôt bonnes. Les deux singles que sont In The Heat Of The Moment et The Ballad Of The Mighty, décevants séparément, s'inscrivent beaucoup mieux dans la globalité de l'album. Sans s'afficher comme une pièce maîtresse de la discographie des années 2015, Chasing Yesterday plaît et constitue un excellent plat de résistance aux fans qui attendent le dessert de la reformation.

Pour suivre les news de rock indé, suivez Merseyside sur Facebook :