Yules – A Thousand Voices – Sobriété et délicatesse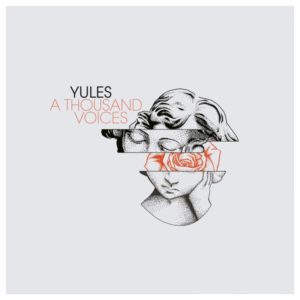 Yules est un groupe français qui s'était fait connaître par de belles reprises de Leonard Cohen et Morrissey. Leur quatrième album est une réussite totale.
YULES – « A Thousand Voices » (Marjan Records / Bigwax) – Sortie le 12 avril 2019
Yules, de Morrissey à Leonard Cohen
Mon histoire avec Yules date d'il y a quelques années, lorsque j'avais découvert le groupe sur l'excellente compilation en hommage à Morrissey où le duo m'avait directement embarqué avec sa somptueuse reprise de Now My Heart Is Full, le morceau d'ouverture de Vauxhall & I, certainement le plus bel album de Morrissey à ce jour.  
Par la suite, j'avais suivi de loin leur album « I'm Your Man » en hommage à Leonard Cohen où le groupe avait remplacé les synthés (très présents, on est en 1988 !) par un quatuor à cordes, faisant preuve d'un très beau travail de réorchestration et arrangements. D'ailleurs, entre la version de 1988 et les versions live plus tard, les synthés avaient parfois disparu :



Pourquoi m'y intéresser de plus près aujourd'hui ? Tout simplement parce que ce nouvel album a quelque chose de captivant, et de très élégant. Je me rends compte finalement que je n'avais jamais entendu de chansons propres du groupe (alors que c'est leur quatrième album) et que le résultat est à la hauteur des illustres reprises que j'avais découvertes jusqu'alors. Les compositions sont délicates, très bien produites, avec une sobriété qui force le respect. Fall Grief avec son côté « Italie des 70's », peut surtout rappeler les guitares de Radiohead période My Iron Lung ou The Bends.
Mais plus que de flatteuses comparaisons, c'est plutôt l'ADN de Yules qu'il est intéressant de creuser. Le duo a réussi à se trouver une identité, jouant habilement sur la complémentarité des deux voix des deux frères Guillaume et Bertrand Charret (A Bridge Anyway), sur l'équilibre entre la guitare acoustique et l'électrique, cette dernière souvent joliment jouée en arpèges, s'octroyant de temps en temps quelques écarts plus noisy (Another Song, I Can't Wait dont le final m'a même fait penser à Rage Against The Machine, vous comprendrez pourquoi).
Malgré sa douceur apparente, l'album trouve un bon rythme et ne tombe jamais dans le cliché de l'album lent et mou. Au contraire. Past Is Present est sans doute l'exemple le plus révélateur, avec sa bonne rythmique, sa montée crescendo, ses enluminures qui apportent un joli relief. Sans oublier le single et inaugural A Thousand Voices qui remplit parfaitement son rôle d'entrée en matière. J'ai également apprécié la prise de risque de morceaux moins conventionnels, comme If dont j'imagine une gestation relativement longue pour aboutir à ce très beau morceau de 6min30.
Yulès réussit un album à la fois introspectif, délicat, et surtout très attachant. A l'heure des productions super musclées (coucou Foals !), l'authenticité délicate de Yules fait un bien fou.
Quelle bière boire en écoutant Yules ?
Délicatesse, rythme, sérénité, respect… voilà ce que m'a inspiré Yules, il faut donc trouver une bière qui s'y apparente bien. Je vais donc (encore) vous suggérer une bière de la brasserie estonienne Põhjala, avec sa Porter répondant au doux nom de Jõuluöö !  Avec son aspect liquoreux très réussi, les arômes de café et chocolat, un peu plus tard de vanille. viennent tapisser délicatement (mais sûrement) lèvres et palais. Un délice, à consommer avec modération.