Reza, une petite tornade délicate : de Morrissey à Lambchop et Mark Eitzel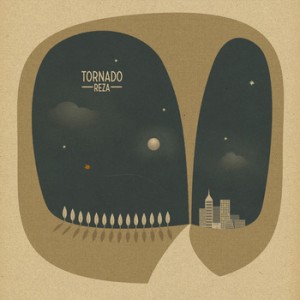 Le français Reza, après une belle campagne de financement participatif en 2014, sort Tornado son troisième album aussi classe que délicat. A mettre entre toutes les bonnes mains.
Point de départ : Morrissey
La sortie de Tornado est sans doute le fruit de l'un des projets de financement participatif les plus beaux de 2014. Rappel des faits.
Mai 2014 : on découvre un magnifique album d'artistes français qui reprennent le monumental Vauxhall And I de Morrissey dans le cadre des 5 ans du non moins excellent blog A l'Ecoute. Ce Vauxhall And Us est un énorme coup de coeur qui nous permet de découvrir la très belle reprise de Reza, inconnu jusqu'alors. A la fois délicate, volontairement ralentie et joliment produite, cette version n'hésite pas à ajouter une guitare noisy parfaitement dosée en arrière-plan sur les arpèges des guitares tant acoustique qu'électrique.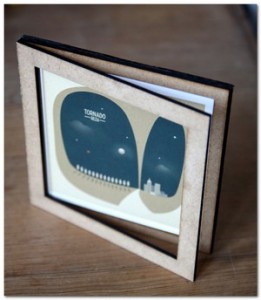 Un dessin par chanson
En suivant l'actualité, on apprend que le bonhomme prépare un album. Comme beaucoup d'artistes indépendants, pas facile de se financer. Alors Reza se lance, comme beaucoup d'autres, dans une campagne de financement participatif. Pour ne rien vous cacher, les sollicitations sont multiples pour défendre des indépendants. Pas évident de soutenir tout le monde. Mais j'ai vraiment adhéré à la démarche de Reza tant elle s'inscrivait dans un projet artistique complet.
Chaque chanson s'accompagne de très beaux dessins dans le même esprit que la belle pochette. Coïncidence ultime puisque le dessinateur n'est autre que Mathieu Persan que l'on avait interviewé il y a déjà quelques années. Et Reza fait réaliser ce bel album par un artisan pour livrer un magnifique coffret en bois qui sera même accompagné d'une délicate étiquette personnalisée. Ce bel objet présenté de la sorte après avoir été conquis par une reprise de Morrissey, le terrain était plus que favorable pour se soumettre et céder à la tentation.
Sur les traces de Sparklehorse et autres Lambchop
L'écoute intégrale de l'album fin novembre 2014 n'a pas déçue, loin de là. Porté par le grandiose Room 502 que l'on assimilerait volontiers à Sparklehorse, l'univers de Reza évolue à la croisée des chemins entre folk et pop délicate évoquant çà et là l'univers presque country de Giant Sand, la délicatesse de Lambchop ou le songwriting de Mark Eitzel ou Damien Jurado plus récemment. Reza s'exprime aussi bien au terme balade douces à l'intensité grandissante (There Is A Light, Endless Love, I Promise) qu'au travers de compositions plus rapides (The Fear Is Gone, A Man With No Country At All) avant de s'attaquer à La Nuit Je Mens d'Alain Bashung. Non, après Morrissey, Reza n'a pas peur de s'attaquer à des légendes avec brio et délicatesse. Bravo.
Pour acheter l'album, c'est par ici.

Pour suivre les news de rock indé, suivez Merseyside sur Facebook :