Tango In The Attic… Coup de tango écossais
Tango In The Attic, littéralement « tango dans le grenier »… drôle de nom pour un groupe qui dépoussière le rock écossais à coups de riffs imparables et sonorités exotiques. Un album plaisant pour cet été 2010.
Malgré un climat parfois un peu rude, l'Ecosse fait pourtant figure de vivier incontournable en matière de pop : Teenage Fanclub, The Pastels, Franz Ferdinand, Camera Obscura, Belle & Sebastian, The Wake ou encore The Vaselines font partie des groupes écossais incontournables. La scène de Glasgow continue à faire des émules, voici donc Tango In The Attic, quinttete créé en 2008.
Bank Place Locomotive Society
Leur premier album « Bank Place Locomotive Society » commence sur des sonorités exotiques qu'on imagine sorties directement des studios de Vampire Weekend avec One Step Away (ou Jackanory). L'allusion est certes évidente et se confirme de façon subtile sur le reste de l'album.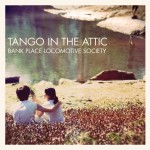 Les compositions s'enchaînent sur un rythme rapide tentant de garder une certaine fraicheur non étrangère à The Drums, en moins 80's branchés. (A Healthy Distraction ou encore le single Seven Second Stare). Pour le reste Whiskey in the Wind lorgne du côté des Kooks (bon en tous cas, ils ont innové, ils auraient pu reprendre le traditionnel Whiskey In A Jar !), Leftside n'est pas sans rappeler Good Shoes ou Bombay Bicycle Club.
Voilà, c'est plutôt plaisant et bien foutu dans l'ensemble. On avait la compilation In The Attic de REM, Satanic Panic In The Attic par Of Montreal ou encore Toys in The Attic par Aerosmith (désolé pour la référence), il faudra désormais ajouter le tango comme élément pour faire du rock dans un grenier.