Zak Laughed, le folk à l'eau de source
Diantre ! Un gamin de 15 ans élevé à l'eau de source auvergnate (et surtout à Dylan) donne l'air de rien des leçons de songwriting sur un album riche en compositions. Révélation juvénile sans aucun doute, voici Zak Laughed.
L'Auvergnat sans façon
Le temps de « Jacques a dit » est terminé, voici Zak a ri ! Zacharie Boisseau, bout de gamin de 15 ans affiche sa maturité musicale sans complexe au fil de ses compositions qui viennent puiser dans le répertoire de Bob Dylan, Leonard Cohen ou Neil Young dans lequel son père l'a plongé. Au l'aurait bien vu dans le film Juno, tant sa connaissance précoce de la culture américaine semble avoir bercé l'enfant.
Depuis peu, le succès s'enchaîne pour le jeunot : après avoir déposé trois chansons sur MySpace, elles ont été repérées par la salle de concert clermontoise « La Coopérative de Mai » puis par le gratin auvergnat avec Cocoon en tête de cortège, mais également Mathias Malzieux de Dionysos. S'en suit un concours de reprises organisé par CQFD pour les 30 ans du label Rough Trade d'où Zak Laughed sort vainqueur avec sa reprise des Strokes « The End Has No End ».
Vieille maison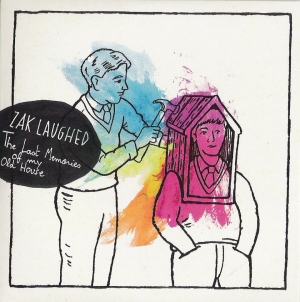 Aujourd'hui sort l'album The Last Memories of My Old House truffé de perles folk naïves et tellement matures à la fois bercées par la voix d'angelot de Zak qui puise aussi dans des références plus récentes, notamment Eels. Le rejeton de Dylan s'est entouré de noms connus de la scène pop clermontoise, à savoir Denis Clavaizolle, complice de Jean-Louis Murat et de Cocoon pour accoucher de ce premier album dont il assume pleinement la sonorité juvénile de sa voix encore enfantine : « Je tenais à ce que ma voix ne mue pas avant d'enregistrer mon album, sinon les chansons que j'ai composées enfant auraient été dénaturées ». Un réalisme touchant pour ce môme qui n'en est qu'à ses débuts…
A noter une tournée qui passera par Paris le 30 sepembre à la Maroquinerie.