Skyers, songwriting folk et harmonies noisy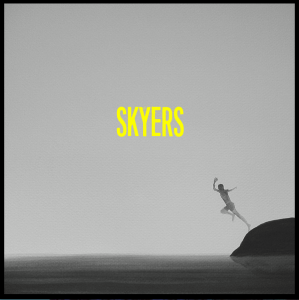 Skyers est le dernier groupe signé sur l'excellent label toulonnais Toolong Records. Mêlant habilement la qualité d'un songwriting folk avec des sonorités plus noisy, le duo sort un album esthétique qui demande une approche plus complexe que sa fausse facilité peut laisser transparaître.
Rentrer dans le détail
Il faut pas mal d'écoutes pour rentrer dans l'univers de Skyers. Au premier abord, la voix type « pop-rock américain » peut décevoir. C'est évidemment très subjectif. Il faut toutefois l'appréhender autrement, rentrer plus en détail dans les compositions. The Walls est un bon exemple. Malgré un début assez conformiste (j'avoue, j'ai pensé à Save Tonight de Eagle-Eye Cherry !), le morceau évolue vers un ensemble mêlant parfaitement les guitares gentiment noisy, la guitare acoustique, la section rythmique et le piano. Dommage que la chanson se finisse un peu vite. Mais on saura se rattraper aisément sur l'ensemble de l'album.
Songwriting folk et harmonies noisy
Globalement, Skyers s'est trouvé un son et une structure assez bien définie : de jolies guitares acoustiques couplées à une guitare slide électrique qui vient ponctuer la mélodie. Voilà un raccourci pour résumer Skyers. Mais, à l'instar du single Kristin, si cette structure peut se vérifier, elle se révèle en réalité bien plus complexe, notamment sur la deuxième partie de l'album, plus intense (Get In The Car). Les riffs électriques savent montrer leur profondeur, leur agressivité aussi, le tout parfaitement orchestré avec une production délicate qui aurait pu s'avérer bien plus « balourde » et venir tout gâcher. On en est très loin, tant mieux.
On aurait facilement assimilé Skyers à la vague de groupes indé américains qui parvient à tirer le meilleur du songwriting et d'un beau sens des harmonies noisy (Crawl of Days). Un Bob Mould par exemple (ex chanteur de Hüsker Dü puis Sugar). C'est le cas sur Mountain of Sound avec cette attaque super catchy et les intonations, le gros son en moins, la voix de papa en moins aussi. French délicatesse oblige. Enfin non, aucune obligation chez Skyers. Juste une esthétique incarnée, à l'image de la pochette. This Evening et ses guitares à la Today des Smashing Pumkins ou This Place for Ever sont des exemples qui affichent le beau travail de composition du duo. Mais vraiment, outre le jeu de mot facile, il faut se plonger dans cet album pour en tirer toute la saveur.
Retrouvez aussi Skyers dans notre playlist indie pop des sorties de novembre 2016.
Où trouver l'album ?
Sur le shop de Toolong Records, ce qui vous permettra de mettre quelques autres belles signatures du label dans votre escarcelle
A La Cellule Records à Toulon ou Penny Lane Record Store à Paris
En concert samedi 10 décembre au Supersonic à Paris.
Skyers sur la toile :
http://www.toolongrecords.com/skyers
https://www.facebook.com/skyersonthestorm
https://soundcloud.com/skyers-626639905
Pour suivre les news de rock indé, suivez Merseyside sur les réseaux sociaux :