Hey Hey My My – British Hawaii – Pop-folk classieuse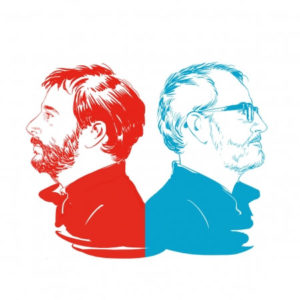 Hey Hey My My – British Hawaii | Sorti le 20/03/2020 (Vietnam Records/Because Music)
Le duo Hey Hey My My représente une certaine idée de la scène des songwriters français à suivre. Julien Gaulier et Julien Garnier reviennent après presque 10 ans d'absence discographique et un très bel album de pop folk.
Folk et inspiration Neil Young
On avait un peu perdu la trace de Hey Hey My My (nom inspiré de la chanson de Neil Young du même nom) qui s'était fait connaître en 2007 avec un premier album très chouette aux influences folk, porté par le single I Need Some Time. Souvenez-vous :
En 2011, le deuxième album s'affichait bien plus électrique, gardant toutefois cet amour des mélodies finement ciselées à l'efficacité impeccable. Je garde aussi un bon souvenir de
Hey Hey My My en concert
, c'était au Bataclan en 2010.
De British Hawaii à Hey Hey My My
Depuis, plus de nouvelles, avant un retour en duo en mars 2020 sur le
label Vietnam
(Chevalrex, JE Sunde). Mais voilà, la France est au confinement, un nouveau monde s'installe, au risque de passer à côté de certaines pépites dont cet album fait partie.
British Hawaii
est sans doute un clin d'œil au groupe du même nom (beaucoup plus électrique/garage) que le duo avait formé dans les années 2000 avant de devenir Hey Hey My My. Vous suivez toujours ?
On reste pourtant dans l'environnement pop-folk classe qui a fait la patte de Hey Hey My My. Le sens des mélodies est toujours saisissant, porté par une production délicate et feutrée et un anglais impeccable. Les arrangements classes et sobres embellissent les morceaux sans les dénaturer. C'est assez marquant sur le duo Egija/Tennessee où l'ensemble est très bien équilibré. Une sorte de délicatesse rythmée.
La version acoustique de Tennessee sortie pendant le confinement montre d'ailleurs qu'une bonne chanson fonctionne bien, même « nue ». Preuve aussi que les arrangements studio sont bien dosés.
L'album compte d'ailleurs quelques chansons quasi acoustiques qui mettent en valeur le beau côté folk de Hey Hey My My (Bottleman, The One I Call), entrecoupés par des titres plus pop et rythmés (July, Plastic Life) qui donnent à cet album un sens de l'équilibre très appréciable. Une réussite.
Hey Hey My My – Interview
Le duo évoque son parcours, le nouvel album, les projets parallèles. Julien parle d'ailleurs du groupe Mother of Two aux belles mélodies indie pop. Ca s'écoute par ici. Ainsi que de Radio Elvis.

Hey Hey My My sera en concert le 3 novembre 2020 à La Boule Noire à Paris. En tous cas on croise les doigts pour que le concert soit maintenu !
Quelle bière boire en écoutant British Hawaii de Hey Hey My My ?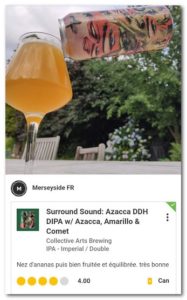 Vous l'aurez compris, on a ici un condensé de délicatesse, d'équilibre, avec une certaine classe. On cherche donc quelque chose d'assez subtile qui peut évoquer le côté Hawaii ou californien de Julien. La double IPA de la brasserie canadienne Collective Arts Brewing réunit parfaitement ces critères avec une bière très fruitée, mais également parfaitement équilibrée. En plus, elle s'appelle Surround Sound ! Le houblon Azacca apporte cette touche tropicale voire citronnée, son nez d'ananas complété par une autre bonne dose tropicale que sont les houblons Amarillo et Comet. Toute cette saveur est possible grâce au double houblonnage à cru, c'est à dire de faire infuser une grosse dose de houblon une fois que le moût est refroidi. Cette technique permet de faire sortir les propriétés aromatiques des houblons, et non l'amertume. Et comme on en met le double d'un houblonnage à cru standard, ça rajoute encore une dose d'aromatique !