Live Report – Girls in Hawaii à l'Olympia le 18 mars 2014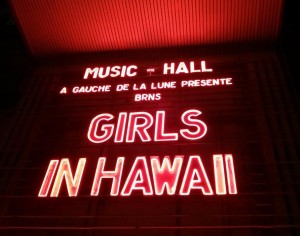 Girls in Hawaii est un groupe modeste mais très généreux sur scène. De passage à Paris sur la scène de l'Olympia, le groupe a livré un grand show, à la croisée des chemins entre Radiohead et The Notwist. Une valeure sûre.
De Madonna à l'Everest, en passant par Massive Attack
La dernière fois qu'on a vu Girls in Hawaii, c'était déjà à l'Olympia en 2008, le lendemain du concert de 30 minutes de Madonna ! Humblement, ils nous avaient même dit « ça fait bizarre de savoir qu'hier c'était Madonna, et ce soir c'est nous« . Cette fois, le sextette a été moins bavard, mais nous a livré 1h40 de concert de haute voltige.
Début presque trip hop avec Wars. En live, ce morceau rappelle les rythmes de Future Proof de Massive Attack et donne une excellente impression sur scène. C'est d'ailleurs le sentiment sur tous les morceaux de Everest. Pourtant fan des deux premiers albums, le troisième m'a laissé un sentiment mitigé qui s'est complément estompé en live. Not Dead, Misses ou Switzerland font désormais figure de piliers sur un live très élégant : fond à l'image de Everest, alternant entre ciel étoilé et triangle stroboscope.
Une dimension scénique digne de Radiohead
Pour autant les morceaux du premier album ne sont pas en reste : Time to Forgive Winter éclate par son final flamboyant, tout comme Flavor, morceau qui clôturera le set dans un dédale de guitares survoltées.
A plusieurs reprises, l'ombre de Radiohead plane, tantôt période Pablo Honey (notamment sur l'inédit Connections), tantôt albums récents.
On pense souvent à The Notwist sur les morceaux plus électro de Girls in Hawaii (les plus rock chez The Notwist), par exemple sur Build The Devil, nouveau morceau joué pour la première fois semble-t-il ! Quoiqu'une fois de plus, on pense à Radiohead, les intonations étant proches de celles de Thom Yorke.
Les Belges nous ont livré un excellent concert avec un gros son, très travaillé, donnant à leurs morceaux une grande dimension. Tout est bien rodé, des guitares acoustiques parfaitement équilibrées avec les fureurs électriques (Birthday Call) aux expérimentations électro (The Fog passe presque pour un morceau de dancefloor). A nouveau, Girls in Hawaii peut sembler modeste sur disque, mais délivre une prestation live de haute volée proposant de réels changements par rapports à la version studio (Grasshoper, limite punk !). Peu de groupes prennent ce risque. A chacun son Everest !

Pour suivre les news de rock indé, suivez Merseyside sur Facebook :