Hey Hey My My au Bataclan le 23 novembre 2010
Les français Hey Hey My My ont assuré un concert énergique et électrique à la fois. Mélangeant leurs deux albums électrique et acoustique, le quatuor (parfois quintette) a livré une prestation diablement efficace et taillée au carré dans un enthousiasme contagieux.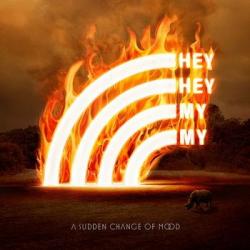 Nous ne rentrerons pas dans les détails, les fans de la première heure sachant mieux le faire que nous, mais nous avons été impressionnés par l'ampleur de ce groupe sur scène. Début avec les deux Julien à la guitare acoustique et électrique dans un Bataclan un peu bruyant pour être ensuite rejoint par le reste du groupe. La setlist est variée, mais si elle lorgne plus vers les morceaux électriques du deuxième album sorti cette année (A Sudden Change of Mood).
Justement, les morceaux électriques dévoilent une sacré force sur scène avec leur subtilité propre, leurs arrangements finement ciselés, des changements de rythme bien trouvés. De We Go à We're Not Meant To Last en passant par Pool ou le puissant Not Fun Anymore, les morceaux électriques ont été amplement représentés.
Côté acoustique, Merryland (le morceau qui ouvre le premier album) semble être un medley parfait entre Where Is My Mind des Pixies et We Talk de PJ Harvey. Evidemment, on a eu aussi le plaisir de se dandiner sur I Need Some Time, Too Much Space ou encore Poison. Très bon concert auquel nous avons pu assister grâce à Grosse Caisse TV. Merci !