Echo And The Bunnymen au Bataclan le 19 janvier 2012
Le groupe mythique de Liverpool était de passage à Paris pour une tournée en l'honneur de ses deux premiers albums : Crocodiles et Heaven Up Here sortis respectivement en 1980 et 1981. Ian McCulloch et Will Sergeant nous ont offert une prestation sans surprise, et conforme à ce que l'on pouvait attendre. Contrat rempli.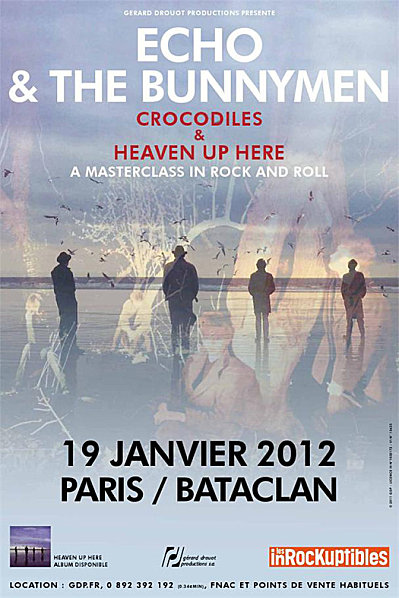 Pourquoi les Bunnymen dérogeraient-ils à la règle du concert commémoratif ? Après tout, c'est en vogue en ce moment, alors tout le monde y a droit. En Angleterre, Echo And The Bunnymen remplissent des salles de 5 000 à 8 000 personnes. En France, il faut se contenter d'un Bataclan même pas plein.
Fidèle à leur slogan Listen In The Dark, la salle plongée dans le noir avec une lumière orangée en fond, le combo a enchaîné ses deux albums dans l'ordre, tout simplement, avec un entracte de dix minutes. Ian McCulloch égal à lui même, fidèle à son image : tout de noir vêtu, voix rauque, éraillée, cheveux ébouriffés, lunettes de soleil, cigarette au bec. Will Sergeant alternant les guitares et les fioritures électriques discrètes, le tout sur un gros volume sonore, plus électrique que les versions originales, comme en témoigne un Over The Wall au final tonitruant. On a presque même cru entendre le fantôme d'Electrafixion et Lowdown sur l'intro de A Promise. On a eu le droit à une version diablement électrique de Heaven Up Here ou une batterie très profonde sur The Disease
Le public, assez froid, était ça et là parsemé d'anglais vivant ce concert comme si la fin du monde était prévue pour la fin d'année… Ian McCulloch était plutôt en forme, lâchant un « Vive la France » en crachant ses poumons suivi d'un « Where the fuck are the ladies ? » au public de quadra. De Going Up à All I Want en passant par les immanquables Rescue, All That Jazz ou Crocodiles, les Bunnymen ont rempli leur contrat.
Contre toute attente, le groupe nous a offert un beau rappel constitué du merveilleux Nothing Lasts Forever, suivi de The Killing Moon puis l'inévitable Lips Like Sugar. A masterclass in rock'n'roll !
Suivez les actus rock indé en devenant fan de Merseyside sur Facebook : http://www.facebook.com/merseysideband