Revue de concert : Wax Tailor à l'Olympia le 25 mars 2010
Le bidouilleur francais Wax Tailor se produisait hier sur la scène de l'Olympia à Paris. Récit d'un concert puissant en beats hip hop et samples groovy, un régal.
Tales of the Mood for Life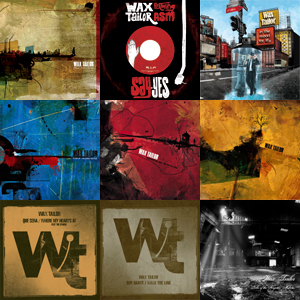 Connaissez-vous Jean-Christophe Le Saoût ? C'est en réalité l'état civil de Wax Tailor, producteur et bidouilleur de talent qui décrasse l'électro downtempo hip hop à coups de samples et beats finement assemblés. Mais la musique de Wax Tailor va au-delà en puisant dans un répertoire très riche qui procure à ses morceaux le curieux sentiment de son universel et tellement atypique à la fois.
La véritable histoire de Wax Tailor commence en 2004 avec l'album Tales of the Forgotten Melodies, très bien accueilli par la critique malgré une ambiance sombre, parfois même lugubre. Que sera est indéniablement l'un des titres qui marque cet album aux accents de thriller policier noir.
En 2006, c'est l'heure de l'espoir mais aussi du chagrin (Hope And Sorrow), un opus très complet et addictif qui nous entraîne dans les méandres d'un hip hop downtempo à l'effet décuplé avec de vraies perles comme Positively Inclined, The Games You Play ou Once Upon A Past.
Samples et bidouilles
Le concert de l'Olympia commence sur les chapeaux de roue avec No Pity, (l'un des moments forts du dernier album In The Mood For Life) qui donne le ton de la prestation qui va suivre : parfois franchement hip hop ! Le décor urbain (des immeubles au multiples fenêtres dont plusieurs contiennent des écrans qui diffusent les très bons visuels des morceaux) s'accorde à merveille aux bidouillages de Wax Tailor, soutenus par un violoncelle, un violon et l'excellente et omniprésente flûte traversière de Ludivine Issambourg.
Notre bidouilleur arrive à trouver une excellente alchimie entre morceaux downtempo où vient se greffer la voix angélique de Charlotte Savary et hip hop énergique avec les nombreux rappeurs invités qui viennent débiter leur beats avec énergie et précision. De précision il est justement question : en bon maître de cérémonie, Wax Tailor, chemise noire, cravate blanche gère au millimètre le déroulement du show derrière ses platines en alternant les moments calmes et plus énergiques. Le point d'orgue de ce savant mélange se fait particulièrement ressentir sur Fireflies où Charlotte Savary gère à merveille son duo hip hop avec Mattic.
Les titres alternent entre les trois albums, avec une véritable ambiance sur Que Sera, où Wax Tailor nous incite à pousser la chansonnette. Au bout d'une heure et demie, Wax Tailor demande au public de rappeler A State of Mind, le groupe qui a assuré la première partie. Deux lascars débarquent alors sur scène pour un Say Yes détonnant ! Le public est chaud et doit se manifester pour avoir un rappel. Quelques minutes après, Wax Tailor revient, serviette blanche autour du coup et entame avec le premier single du dernier album, This Train puis une dédicace à sa mère, présente au premier rang du balcon suivie d'une floppée de titres dont on a oublié les noms, avouons-le. Peu importe,  on a pris notre pied pendant 2 heures de concert intense. Et c'est bien le plus important. Wax Tailor remet ça ce soir, pour un deuxième concert sold out depuis des mois avant de partir en tournée aux quatre coins du monde.