Lecube, la pop au carré made in France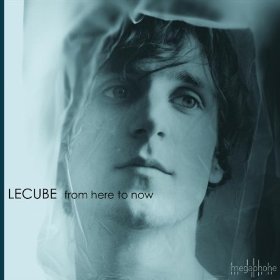 Derrière ce nom taillé au carré se cache Julien Barbagallo, jeune songwriter de talent reclus dans le Tarn. Multi-instrumentiste de talent, il nous offre un premier mini-album de huit chansons, véritables perles pop aux mélodies délicates. Le bijou de cette rentrée !
Peu connu du grand public, Lecube erre cependant dans l'élégante sphère électro-pop française autour de Tahiti 80, Axe Riverboy (projet solo de Xavier Boyer de Tahiti 80 justement) et Bertrand Burgalat dont il a assuré des premières parties avec Aquaserge, son ancien groupe, lui-même formé des restes du groupe Hyperclean. Vous suivez ?
Julien Barbagallo, alias Lecube, réunit sur « From Here To Now » plusieurs chansons composées il y a quelques années, agrémentées de nouvelles compositions révélant un songwriting de qualité, fin et délicat comme en témoignent les titres Lady Pornograph, Before I Die ou Shoot the Nany, titre qui se balade entre les Beatles (dont la reprise de I've Just Seen A Face figure sur cet album), Stephen Malkmus et I'm From Barcelona. Loin des formats calibrés pour la radio avec des morceaux plus psychédéliques (Creatures), ce mini-album est un vrai régal pour les oreilles, tout en douceur. Le coup de coeur pop-folk de cette rentrée.
A écouter sur Myspace dans un premier temps, sans oublier de se procurer l'album :
– Sur Ebay, dans la boutique du label Megaphone.
– Sur Amazon.