Playlist indie pop – Mars 2016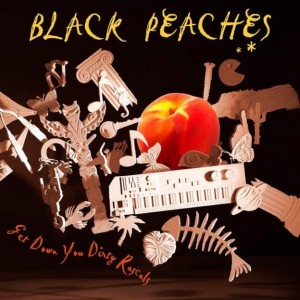 Comme tous les mois, retrouvez la playlist des nouveautés indie pop sorties en mars 2016. Peu de gros groupes, beaucoup de découvertes en presque 2 heures de musique.
Groupes à tubes 
les groupes à tubes sont incarnés par DMA'S, des australiens qu'on aurait juré anglais avec leur sens de la provocation et leur côté « lad », Journalism qui claque un pur morceau de rock ultra efficace, à reprendre en choeur en fin de soirée. Dommage que la basse soit si plate. On se réjouira du rock garage des norvégiens de Death by Unga Bunga qui méritent le détour pour le nom et la pochette. Et pour pas mal de titres aussi en fait !
Pure indie pop
Gros pavé de notre playlist (évidemment), on y retrouve Volage qui signe un EP acoustique splendide signé sur l'excellent label français Howlin Banana, The Goon Sax et son côté lo-fi, Cullen Omori, l'ex Smith Westerns qui affiche plus de réverb et de synthé qu'avec son ancien groupe. Lost Tapes signe un titre que l'on pourrait attribuer aux Pains of Being Pure At Heart. Sur la playlist Soundsgood, 2 titres en plus de Spotify : The Death of Pop, jeune quatuor de Londres qui fascine par son sens de la mélodie dreampop, et Pale Spectres, parisiens défendeurs de l'indie pop façon C86. Ils sont d'ailleurs en tournée avec The Death of Pop. Mothers nous réjouit avec ses gentils riffs, malgré une voix un peu pesante tot au long de l'album. Mars est également le retour de Yuck avec un album plus réjouissant que le précédent, notamment cette balade parfaite (quoiqu'un peu mielleuse). On notera la présence d'un groupe français qui chante en français, plutôt rare sur nos pages. L'heureux élu s'appelle MHA et ça fonctionne rudement bien. Deardarkhead est une sorte d'ovni. Très dreampop, le groupe surprend avec un EP entièrement instrumental signé sur l'excellent label américain Saint Marie Records (qui avait notamment édité pour la première fois en vinyle les albums du groupe shoegaze Blind Mister Jones).
Songwriting 
Comment ne pas évoquer Elliott Smith en écoutant Lionlimb ? Voilà qui devrait suffir à laisser y glisser une oreille attentive. On appréciera la pop chaude et suave de Damien Jurado qui publie également une BO.
Rock/Shoegaze
The Coral lâche sa britpop au profit de riffs musclés, The Raveonettes signe son retour sans album mais avec une valse shoegaze discutable au final très bruyant. On a préféré d'autres titres. On se réjouira du rock efficace de The Thermals qui parait bien pâle par rapport à la déferlente Bob Mould. L'ancien leader de Sugar ne semble pas accuser le poids des années avec une puissance sonore et un timbre de voix toujours aussi percutant. Les australiens de Sheepdogs font le job avec un morceau plutôt plaisant. Ils seront de passage en France en juillet. Le retour de Sophia (souvenez-vous du génial « Oh My Love ») s'affiche tout en profondeur sur un titre assez noir.
Psyché
Chris Cohen, l'australien qui revient avec un album courant avril, mais ce titre est tellement bon qu'on fait du teasing, les français de Yeti Lane qui embarquent dans un son psyché bien lourd (dans le bon sens du terme) sur un album titanesque. Heron Oblivion fait la clôture de cette playlist avec un son qui n'a rien à envier à Yeti Lane. Sur plus de 7 minutes, ce tout nouveau groupe de San Francisco signé chez Sub Pop séduit par son univers proche d'un Mazzy Star qui se serait gouré de pédale de distorsion.
Electro
La seule vraie touche électro de cette playlist sera représentée par Mind Enterprises, italien émigré à Londres qui signe un titre super accrocheur.
Inclassable
Avec leur riff country, les Black Peaches nous déroutent. Ce titre de plus de 7 minutes nous embarque dans une épopée inclassable riche en surprises. Un énorme coup de cœur d'un ex-membre de Hot Chip. Le titre de Night Moves affiche également une réjouissante envolée qui donne un bonne patate et le sourire d'un départ en week-end. Chronique complète ici.
Bon allez, on écoute tout ça ?
(Scrollez sur la playlist pour voir tous les titres)
Pour suivre les news de rock indé, suivez Merseyside sur les réseaux sociaux :