Playlist indie pop – Mars 2017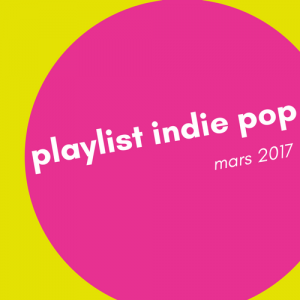 On commence par une association assez surprenante, celle d'un vrai bricoleur musical et d'un songwritrer, aka R. STEVIE MOORE et JASON FALKNER pour au final un album pas trop foutraque, et même assez bien structuré et rythmé pour faire un vrai beau disque de rock indé. On en parlait le mois dernier, cette fois JESUS & MARY CHAIN ont vraiment sorti leur nouvel album (le premier depuis 1998 !). Si l'ombre d'un retour foiré planait, ce Damage & Joy est une vraie réussite de compositions de pure indie pop comme seuls les frères Reid savent en faire. Côté vieux de la vieille, THURSTON MOORE tease son retour de la meilleure des manières. Sonic Youth est bel et bien terminé, l'inspiration et le travail sur ce son de guitares et les dissonances persiste. On a hâte (album en mai). On note aussi le retour de Scott Kanneberg, membre fondateur de PAVEMENT qui revient avec son groupe SPIRAL STAIRS qui s'affranchit de son groupe d'antan au profit d'un album sympathique mais pas fou.
Grands retours
Parmi les grands retours, on notera le duo GONZALEZ/JARVIS COCKER (de Pulp) avec un album très doux, au songwriting et à l'interprétation impeccable. Les canadiens de BROKEN SOCIAL SCENE refont aussi surface avec un titre ultra accrocheur, preuve que leur talent n'est pas reconnu à sa juste valeur. Mars annonce aussi le retour des FLEET FOXES qui n'ont plus sorti d'album depuis 2009. Les américains de WOODS, même s'ils restent prolifiques, font aussi partie de ces grands noms de retour au printemps. Sentiment très personnel, mais j'ai l'impression de me lasser un peu de Woods, surtout de la voix. Souvent attendus au tournant, les américains de REAL ESTATE régalent toujours autant avec leur sens inné des arrangements et harmonies. Plus de doute, les nouveaux Teenage Fanclub, ce sont bien eux. Tiens, on allait oublier les anglais de MAXIMO PARK qui ont bien perdu la verve des débuts pour un morceau un peu plus mainstream. Dommage. Un peu aussi le cas de MARTIN CARR ? Peut-être pas, mais le leader des BOO RADLEYS ne convainc pas totalement.
Découvertes et nouveaux venus
THE COURTNEYS est un groupe de Vancouver qui débarque avec un deuxième album, signé sur le label néo-zélandais Flying Nun (et surtout, le premier groupe non néo-zélandais à signer sur ce label !) avec une indie pop slacker 90's assez cool. Plus dark, les italiens de SONIC JESUS sont aussi une belle surprise. Très shoegaze, dans la lignée de The Horrors et autres Chameleons, leur troisième album est une vraie réussite. Il serait étrange de considérer LAURA MARLING comme un nouvelle. A 27 ans, elle en est déjà à son sixième album studio ! Mais voilà, je n'y avais jamais prêté oreille. Et j'ai été scotché par son album « Semper Femina » dont le titre d'ouverture m'a mis une sacrée claque. A écouter très fort sur des enceintes de salon. On a l'impression qu'elle est dans la pièce. Un songwriting moderne et inventif. Très belle surprise.
Pour suivre les news de rock indé, suivez Merseyside sur les réseaux sociaux :