Playlist indie pop – Février 2017
A regarder les groupes de cette playlist indie pop, on a du mal à se croire en 2017 : The Jesus and Mary Chain, Slowdive, Ride ! Pour ceux qui en doutaient, le shoegaze est bien de retour !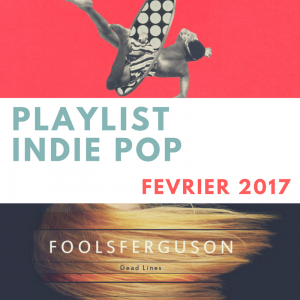 Après la dose shoegaze, un petit Sonic Youth, ce serait parfait pour un bon come-back dans les 90's. Tiens ça tombe bien, le maître THURSTON MOORE est de retour. Du même calibre que le monumental The Best Day. Nouvel album début mai, on a hâte ! Autant que le nouvel album des anglais de ULRIKA SPACEK qui ont d'ailleurs dû beaucoup écouter Sonic Youth… Et aussi Deerhunter.
Pour l'apéro du vendredi, on mise sur le gentillet retour de THE DRUMS avec une recette inchangée, ou alors sur SACRED PAWS, sorte de Vampire Weekend décomplexé. Une bonne entre en matière avant de continuer avec DUTCH UNCLES et leurs morceaux très aventureux et joliment déstructurés. Ou sinon on assure avec l'exotisme de FOREIGN/NATIONAL, des australiens avec un titre ultra addictif, starter idéal pour la semaine ou remède anti coup de blues.
Côte déjanté, MR ELEVATOR & THE BRAIN HOTEL sort du lot avec son Dreamer aux airs de Mr Kite des Beatles.
Soutenons aussi les amis de FOOLS FERGUSON qui sortent un premier album très abouti qui va autant puiser chez Echo And The Bunnymen que chez nos gloires du shoegaze, mouvement représenté ce mois-ci par ses piliers de retour en force. Si RIDE ne m'a pas complètement embarqué et que JESUS AND MARY CHAIN est bon mais pas révolutionnaire, je dois avouer que le Star Roving de SLOWDIVE m'a foutu une sacrée claque ! Quel retour ! Côté 80's avec des grosses guitares, le nouvel album de BRITISH SEA POWER le 31 mars s'annonce de la meilleure des manières avec un single entre New Order, Violens et les Pains Of Being Pure At Heart.
On ira se déhancher le samedi soir sur la pop ensoleillée des espagnols de POLOCK, un peu plus mainstream que ce qui nous avait séduit chez eux. Les Français de PONI HOAX font aussi bien le boulot.
Pour le dîner romantique, tous les espoirs reposent FATHER JOHN MISTY, plus crooner que jamais. Le jeune ALIOCHA n'a donc pas le monopole même s'il s'en sort quand même très bien, dans le genre.
CATE LE BON sort un EP qui traduit bien son sens de la créativité. Indé et joliment bancal. Largement plus que les américains de SKATERS, moins incisifs que le rock certes un peu surproduit mais addictif de leur album sorti en 2010. Un peu comme ce que réussissent actuellement les américains de THE ORWELLS.