Black Peaches – Get Down You Dirty Rascals – Album de l'année 2016 ?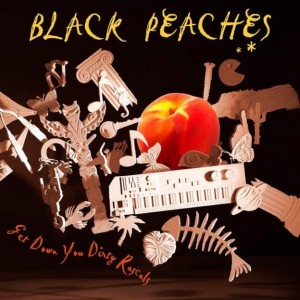 Voilà que l'un des mecs de Hot Chip prend la poudre d'escampette pour fonder Black Peaches et livrer l'un des albums les plus foutraques, mais aussi les plus réjouissants de ce premier trimestre.
Un ovni ! Mais le genre d'ovni addictif qui contente la famille, et même Madame, souvent ronchonne aux découvertes loufoques et sans fin de Monsieur. Black Peaches est un disque familial qui respire la bonne humeur. Très varié et n'hésitant pas à explorer différents styles, Get Down You Dirty Rascals réjouit par sa production chaleureuse et justement dosée.
Faisait la part belle à de nombreuses influences rétro, l'album y va de son petit riff bien dosé dans tous les coins. Du Double Top inaugural un peu soul-country ambiances « coin du feu après un rodéo » au final Raise high the roofbeams, Carpenters qui oscille entre le western spaghetti et la course-poursuite entre chien et loup au volant d'une belle Bugatti décapotable, les Black Peaches réjouissent par leur sens de la bonne humeur.
Fire & A Water Sign s'affiche comme un Start Me Up des Stones presque disco qui fait la part belle aux congas et autres tam-tams évoquant presque The Whitest Boy Alive. Influence que l'on retrouve sur Below The Wave et son riff groovy sur piano Bontempi.
Vous sentez la chaude ambiance de la mangrove ? C'est Hanging Moon, ce morceau d'après l'amour sous les tropiques en Asie du sud-est. Ouch ! Suivez-moi reprend cette ambiance, avec ses oiseaux en fond, ses mélodies clairement asiatiques avant de virer en course-poursuite délicate sur fond de soul/funk discret des 70's.
Nos pêches noires n'hésitent pas à claquer des morceaux de plus de 6 à 7 minutes mais avec un dosage parfait qui fait passer les 46 minutes de l'album avec une classe indéniable. L'album le plus réjouissant de l'année.
Pour suivre les news de rock indé, suivez Merseyside sur les réseaux sociaux :