Kaviar Special – Vortex – Garage pas assez audacieux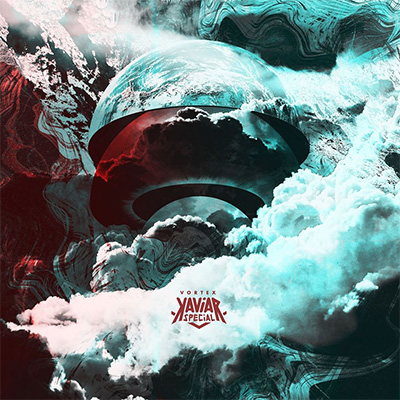 Quand on parle de rock garage en France, on parle assez logiquement du label Howlin Banana qui s'est taillé une belle réputation (justifiée) en la matière. Kaviar Special fait partie de cette écurie. Les Rennais assurent l'essentiel avec un bon rock garage comme on aime, même si un pointe d'originalité aurait été la bienvenue.
Il y a 2 ans, je les découvrais avec leur deuxième album, 2, dont la belle pochette m'avait intrigué. Cet album revendiquait sans vergogne son rock garage teinté d'une pointe 60's qui m'avait bien séduit.
Un Kaviar Special moins aventureux
Vortex devrait apporter la maturité, mais paradoxalement, je le trouve un peu plus plat que son prédécesseur. Si l'esprit garage et brut reste l'ADN de Kaviar Special, je trouve les morceaux moins aventureux. Bursting At The Steams est un bon exemple : si le morceau reste très bon, le riff assez classique lui donne un côté presque passe-partout là où je m'attendais à un peu plus de folie.
Finalement la prise de risque se fait sur des morceaux qui sortent un peu du périmètre initial, comme Dead End qui fonctionne tout en progression et qui a ce côté presque langoureux.
Rock et punk, le fond de commerce
Les morceaux bien rock assurent toutefois le fond de commerce. The Draugr et ses cassures de rythmes intéressantes, le bien punk Busted et même Scattered All Around avec son petit côté Nirvana.
Back To School est une pop song sympa qui brille par ses solos de guitares noisy sur fond de fuzz. Bedroom fonctionne un peu de la même façon. Assez classique dans son approche, je trouve que le morceau se démarque par ses solos bien noisy. Finalement, c'est surtout l'album dans son ensemble qui prend toute sa cohérence. J'aurais bien du mal à cracher sur ce Kaviar Special d'un très bon cru que je prends plaisir à écouter mais qui manque un peu d'audace.
Quelle bière pour écouter Kaviar Special ?
On est sur du bon rock testostéroné à la sauce joyeux bordel, il nous faut donc quelque chose qui a du corps et qui a la dose d'alcool nécessaire pour bien se défouler. La Gypsy Rose de la brasserie luxembourgeoise Sainte Hélène ferait bien le job. Avec son étiquette féminine rouge maléfique, elle va très bien avec la pochette de Vortex. Son nez faible est compensé par un goût soutenu et une légère amertume bien ronde, digne des bonnes triples. Les 9° apportent ce qu'il faut pour la dose rock'n'roll.
Pourquoi de la bière sur Merseyside.fr ? Parce que c'est une de mes autres passions en plus de la musique, et que je trouve qu'il y a des associations vraiment intéressantes à faire entre bière et musique. Associer une bière à un album et inversement. La bière de dégustation est en plein essor, je ne peux que vous encourager à challenger vos papilles. Avec modération évidemment, on parle de dégustation. 
Pour suivre les news de rock indé, suivez Merseyside sur les réseaux sociaux :