A gagner : 2×2 places pour The Madcaps, The Parrots, Volage au Café de la danse le 3/3/16 (Paris) [Concours terminé]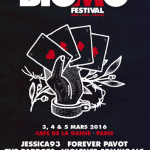 Le Bigmo Festival se déroulera du 3 au 5 mars au Café de la Danse à Paris. Avec une belle affiche qui réunit des révélations indie, rock, garage de ces derniers mois, ce festival fait la part belle à trois labels français résolument indé : Howlin' Banana, Teenage Menopause et Born Bad Records. Le Café de la Danse et Merseyside vous invitent à la soirée d'ouverture du label Howlin' Banana avec The Madcaps, The Parrots et Volage. Enjoy !
Si vous suivez ces pages, vous avez déjà entendu parler de The Madcaps, ces français déjantés dont l'album Hot Sauce est sorti courant janvier. On espère la même ambiance que sur la pochette !

The Parrots sont des madrilènes qui s'accorderont à merveille avec The Madcaps. Avec un notamment un EP intitulé Weed For The Parrots, le ton est donné. L'ambiance aussi.

Volage n'est pas en reste non plus. Plutôt orienté garage sur son premier album, le groupe dévoile une nouvelle identité plus intimiste et acoustique sur son nouvel EP.  A suivre de près…

Pour suivre les news de rock indé, suivez Merseyside sur les réseaux sociaux :