Interview exclusive : Beach Baby, le groupe le plus cool de 2015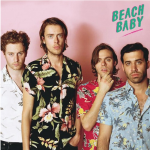 Rencontre avec Beach Baby, jeune quatuor de Londres qui est passé par Paris fin 2015. Avec leur tube imparable « Limousine », on a voulu en savoir un peu plus…
Quels groupes vous ont principalement influencé ?
Il y en a vraiment beaucoup, et je ne voudrais résumer la réponse à 1 ou 2 groupes. Je crois qu'on peut dire qu'on a un son assez éclectique qui surfe sur la vague pop du milieu des années 60, tant du côté anglais qu'américain : les Beatles, les Byrds, les Beach Boys etc. Des trucs un peu plus « métalliques » et new wave aussi : les premiers Cure, R.E.M par exemple. Et on ajoute une touche de folie et l'aspect dark du post punk un peu gueulard : The Fall, Birthday Party. Ah et aussi, on utilise des claviers japonais 80's trop cool, donc on peut mettre un peu de Yellow Magic Orchestra, histoire d'avoir un truc complet. En fait c'est vraiment un peu de tout.
Comment est né Limousine, ce tube hyper catchy ? Comment allez-vous maintenir la même qualité sur votre album ?
Cool que tu la trouves accrocheuse. Cette chanson est venue assez vite. Ollie a bossé les accords séparément et quand c'était prêt, il les a passés à Shep and Herc qui les ont arrangés avant d'y ajouter les paroles. Lawrence a ajouté la touche finale avec cette guitare sexy, quelques parties de voix et paroles de son côté. Arrivé à ce stade, on savait qu'elle nous convenait, qu'elle claquait bien et qu'on était prêts à la jouer.
Comment êtes-vous parvenus à promouvoir votre musique ? Aviez-vous des contacts dans le monde de la musique ?  
On a eu du bol que Chess Club Records arrive au moment de Ladybird, notre premier single. On a clairement franchi un cap et ils ont bien su nous promouvoir sur le net. Donc j'imagine que c'est grâce à eux qu'on est parvenu à prendre l'ampleur que l'on a aujourd'hui.
Quelle est l'importance des blogs musicaux, par rapport aux magazines tels que le NME ou Pitchfork ?
Ils sont vraiment importants parce qu'ils s'intéressent aux nouveaux groupes, non ? Le NME ou Pitchfork sont tout aussi importants et servent à pousser des groupes d'une autre ampleur. Mais c'est vrai que les blogs font plein de choses pour que les petits groupes non signés soient un minimum écoutés et exposés. Donc oui ils sont vraiment importants.
Le travail d'enregistrement et de mixage est un gros boulot. Est-ce que ça a été long pour obtenir le son que vous vouliez ?
Je ne dirais pas que c'est court ou long pour enregistrer un morceau. Certaines chansons se mettent en place rapidement dans le processus d'enregistrement, ce qui n'est pas le cas d'autres qui demandent un gros travail en studio pour arriver au bon résultat. Pour le mixage, il y a avant-tout beaucoup de va-et-vient entre nous et l'ingé son avant que ce ne soit prêt. Pour le mastering, franchement j'en sais rien car tout est envoyé à un mec dans un énorme studio de mastering qui nous renvoie le tout qui sonne nickel !
Quels sont les meilleurs concerts auxquels vous avez assisté en 2015 ?
On est allé voir Thusrton Moore et son groupe quand ils ont joué à Live at Leeds. C'était vraiment cool.
Vous avez des groupes à nous faire découvrir ?
On a joué avec Willie J Healey cette année et c'était vraiment bien. Regarde ce qu'il fait lui et son groupe. On a aussi des potes qui sont dans un groupe qui s'appelle BabeHeaven, c'est assez cool aussi.
Question subsidiaire : avez-vous un boulot à côté ? Qu'est-ce que vous faites quand vous n'êtes ni en studio ni en tournée ?
Ouais, on jongle avec différents boulots qui vont de script pour des longs métrages, aider un conducteur de van qui livre et installe des meubles, enseigner dans une école ou encore bosser pour un petit label.
Merci à Caroline International qui a rendu cette interview possible
Pour suivre les news de rock indé, suivez Merseyside sur les réseaux sociaux :