TOY – Clear Shot – L'album qui confirme un groupe de référence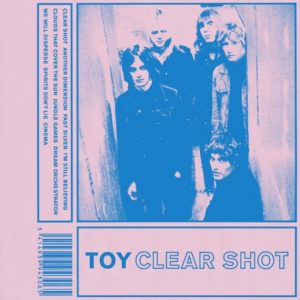 Le groupe anglais TOY façonne petit à petit sa discographie qui commence à être sacrément consistante en seulement trois albums. Les protégés de The Horrors ont définitivement pris leurs aises pour s'affirmer comme un groupe de référence.
Comme il est coutume aujourd'hui, le groupe a lancé quelques morceaux sur le net avant la sortie de l'album. Et à chaque fois, j'ai été franchement séduit par ces extraits. Je suis pourtant très méfiant de manière générale, en écoutant un morceau sorti de son contexte de l'album. Je reviendrai sans doute sur le sujet un jour…
Douce évolution
Mais là on où n'imaginait pas Toy se réinventer, le groupe nous surprend. Pas en se réinventant. Mais en évoluant doucement, mais sûrement. Une vraie continuité qui apporte toutefois une touche plus directe, voire pop. Le Clear Shot inaugural en est la preuve : un début lent sur fond de dissonances, qui pourrait partir sur des délires sonores sur nappes de synthés qui apparaissent d'ailleurs en arrière-plan. Mais Toy choisit plutôt le riff ultra efficace qui lance vraiment l'album de la meilleure des façons. Le son est claquant, les synthés annoncent leurs boucles psyché et les guitares rugissent en crescendo. Le ton est donné. Il y a un côté direct qui n'est pas pour déplaire, et qui manquait peut-être à l'opus précédent, Join The Dots, plus noir et moins accessible.
ADN noisy et dark
Mais Toy ne se contente pas d'appliquer cette recette partout. Malgré des accroches efficaces, le groupe prend plaisir à nous embarquer dans ses variations de rythme et de structure. Et de son aussi. Le synthé très Doors de Fast Silver et son ambiance lugubre montre la capacité du groupe à sortir des sentiers battus et à créer des ambiances profondes (Jungle Games, Spirits Don't Lie).

On se réjouit aussi des morceaux plus directs comme I'm Still Believing ou We Will Disperse, tant que l'ADN noisy et dark du groupe n'a pas complètement disparu. Le final du Cinema de clôture en est la preuve. Et surtout Dream Orchestrator, véritable pierre angulaire de l'album qui affiche fièrement ses synthés oppressants pour un final qui met assez mal à l'aise. Le live s'annonce franchement réjouissant.
Là où Toy s'affichait comme un disciple de The Horrors sur ses premiers albums, force est de constater que le groupe londonien vient affirmer un statut de groupe de référence qui lui va à ravir. L'album tourne en boucle ici depuis sa sortie et s'affiche comme un coup de cœur évident de cette fin d'année.
Pour suivre les news de rock indé, suivez Merseyside sur les réseaux sociaux :