A gagner : 2×2 places pour TOY au Nouveau Casino (Paris) le 8/12/2016 [concours terminé]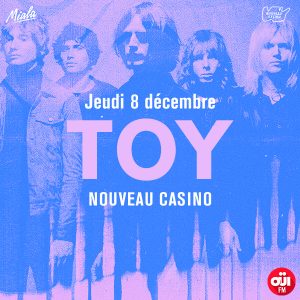 Le groupe anglais TOY fait désormais partie des références de groupes psyché/shoegaze, dans la lignée de ses aînés The Horrors. De retour avec un troisième album très réussi, ils viennent faire résonner leurs guitares sur la scène du Nouveau Casino. Merseyside et Miala vous font gagner des places.
Rappelons à quoi ressemble TOY à travers ses trois albums. Il faut noter en 2011 un premier single mémorable de 8 minutes qui a laissé tout le monde de marbre. Aaaaarrrrgh, quel final archi trippant ! Jugez plutôt :
Encore plus sombre, le groupe revenait en 2013 avec Join The Dots, un album dense et assez noir, laissant toujours la part belle aux guitares et à une ambiance oppressante.
2016 marque un retour très réussi avec un album (lire la chronique) qui affiche un visage parfois plus pop, à l'instar de ce titre :
A gagner : 2×2 places pour TOY au Nouveau Casino (Paris) le 8/12/2016
Pour suivre les news de rock indé, suivez Merseyside sur les réseaux sociaux :