The Charlatans – Who We Touch
Les mancuniens des Charlatans viennent de sortir « Who we Touch », leur onzième album studio. Dans l'indifférence générale, ces rescapés de la vague Madchester et de la britpop livrent dix morceaux pas franchement mémorables. Le titre de l'album pose la question, en effet…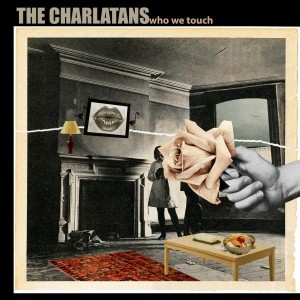 On se demande qui les Charlatans cherchent à toucher… à part leurs fans (dont on fait partie). L'album commence en trombe avec un single diablement efficace (Love Is Ending), mais la suite s'essouffle très vite, dès le deuxième morceau pourtant choisi comme deuxième single (My Foolish Pride).
On les croit rebelles en lisant les titres (Smash The System), mais tout ça est un peu poudre aux yeux car sur le plan musical, c'est pas franchement palpitant. Entre les titre aussi poussifs que peu inspirés (Intimacy, You Can Swim – On The Treshold), et le redites des albums passés (la ligne de basse de Sincerity est clairement la même, en plus rapide, que Forever sur l'album Us & Us Only), nos amis nous donnent plutôt l'impression de patauger sur des formules rock en panne d'inspiration.
Il faut bien avouer aussi que la production de Youth (qui a travaillé avec Primal Scream et The Verve notamment) est franchement pataude, et c'est sans doute cette lourdeur permanente qui décrédibilise les compositions de Tim Burgess. Oui, essayons de trouver un coupable. Mais soyons honnêtes, bien ou mal produit, un mauvais morceau reste un mauvais morceau, ça n'en fait pas pour autant un mauvais groupe.
A vrai dire, on se réjouit toujours à la sortie d'un album des Charlatans, sans pour autant en attendre grand chose. Donc oui, le contrat est rempli sur ce plan là. Ne nous racontons pas d'histoire, il faudra bel et bien patienter pour un nouveau Tellin' Stories…