Stuck In The Sound – Pursuit – Plaisant et consistant
Stuck In The Sound est l'un des vrais bons groupe de rock français que l'on suit depuis leurs débuts. Le quatuor revient avec son troisième album produit dans son studio de Montreuil, 3 ans après l'excellent Shoegazing Kids. De shoegaze il est moins question, le virage est plus pop, et plutôt réussi.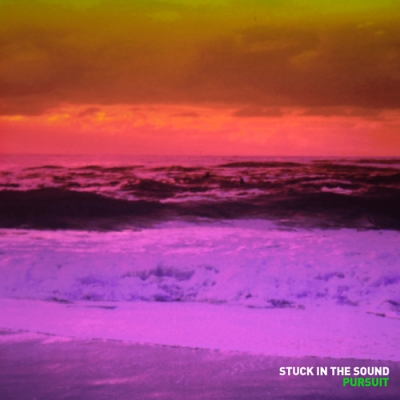 Une pochette à cheval entre l'excellent Skying de The Horros et Wallpaper for The Soul de Tahiti 80 (pour les couleurs) et une entrée en matière déroutante : Brother est sans aucun doute l'un des meilleurs titres de l'album où la voix de José Reis Fontao semble métamorphosée. Un excellent titre d'électro-rock. A quoi faut-il s'attendre ensuite ? Si le groupe nous avait mis l'eau à la bouche fin 2011 avec un des meilleurs clips de l'année (voir ci-dessous), on n'avait pas réellement accroché sur le plan musical. L'ensemble de l'album, bien qu'hétérogène, laisse entrevoir de bons morceaux aux refrains accrocheurs sur fond de guitares énervées (Let's Go, Criminal qui commence comme un morceau de Pavement et où la voix de José semble sortie tout droit de The Rapture, Who The Guy, I Told You). L'excellent Fred Mercure rappelle l'urgence des premiers albums, pas si loin de ToyBoy finalement (l'intensité en moins). Le groupe s'essaie également à de nouvelles sonorités (September) ou à de belles balades (Silent and Sweet) sans renier sa rage des débuts (My Life, Purple).
Malheureusement l'album ne nous épargne pas certaines déceptions (Tender, limite variété !), y compris sur les singles. Bandruptcy, le premier single de cet album peine à convaincre par son côté excessif et débraillé, Pursuit aurait presque pu suivre cette tendance. Au final, on garde dans les oreilles un album plaisant et consistant, que l'on prendra plaisir à écouter en live. Rendez-vous le 22 mars 2012 à La Cigale.
Pour suivre les news de rock indé, suivez Merseyside sur Facebook : http://www.facebook.com/merseysideband