Stuck In The Sound – Survivor – Tout ce qu'on a détesté dans les 80/90's condensé en 1 album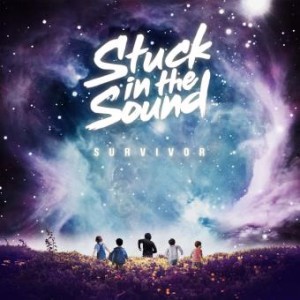 Stuck In The Sound publie son quatrième album qui va en laisser plus d'un sur le bord de la route. Fans de Vangelis, Van Halen et Gun's & Roses, c'est pour vous. Et donc pas de miracle, ça coince pour nous ! Pas cool, on s'est fait coincer.
Ça commence déjà par une pochette dégueulasse qui fleure bon le mauvais goût des années 80. Le titre éponyme qui ouvre le bal est une horreur : très doux, guitare acoustique, nappe de synthé, claquement de doigts, voix poussive façon variété, le synthé revient en fin de morceau, la reverb enfle sur la voix, on est sur du bon RnB pour Les Enfoirés (les recettes aux Restos du Cœur en moins !). On s'accroche, le deuxième morceau, plus rock, est aussi mauvais goût. Mais virez-nous ces synthés infâmes bordel ! José à la voix, se cherche entre Michael Jackson et Freddy Mercury. La prod pue la FM mainstream. Horrible. Peut-être pas pour les fans de Calogero.

Comment continuer ? Sur l'innommable single Miracle révélé il y a quelques semaines, l'impression se confirme : on croirait le remix qui devrait figurer en face B du single, et encore. Difficile de persévérer. Pourtant on le fait, pour deux raisons :
– parce qu'on aime beaucoup Stuck In The Sound, et aussi parce qu'on a trop de respect pour tâcler un artiste gratuitement, artiste qui a travaillé des mois sur l'album.
– parce qu'un blog musical tel que nous l'entendons, se doit d'être sincère, fidèle à sa ligne de conduite, et donc d'écouter un album plusieurs fois pour le chroniquer.
Dies Irae ressemble plus à ce qui nous a fait aimer le groupe depuis ses débuts. Sauf qu'on sent le quatuor partir sur un pseudo hardrock 80's avec son solo de guitare à faire pâlir Van Halen. Voilà une transition toute trouvée pour décrire à quoi ressemble cet album : en fait, on retrouve dans cet album tout ce qu'on a détesté à la fin des 80's, début des 90's : les Guns & Roses, Van Halen, Vangelis, Tears For Fears…  La production très léchée dessert franchement l'album (Perfect Man, c'est du Soul Azylum ou Screaming Trees, vous savez, ces groupes de rock ricain FM des 90's. Dance Until Tomorrow, c'est bien pour le nouvel album de Vangelis ?), sans compter ce Eyes Like Ice qui ressemble à s'y méprendre à cette horreur de tube : Enola Gay du groupe Orchestral Manoeuvres in the Dark (OMD). Si si vous connaissez…
On ne peut que saluer la volonté d'un groupe à innover, ou plutôt se renouveler comme ils l'ont tout le temps fait. Mais cette évolution mainstream 80's taillée pour Virgin Radio n'est pas ce qui nous fait vibrer. On n'y a pas survécu.
Pour suivre les news de rock indé, suivez Merseyside sur les réseaux sociaux :