Stuck In The Sound – Billy Believe – Ouf, ça envoie toujours !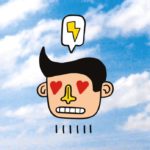 Stuck In The Sound, revient avec un cinquième album après s'être fait une belle notoriété en plus de 15 ans de carrière. Réputé pour ses lives ultra dynamiques, le quintette ne délaisse pas le studio pour autant. D'ailleurs, pour l'album Billy Believe, l'enregistrement s'est déroulé dans leur temple, leur studio fait maison, à Montreuil en banlieue parisienne pour un retour aux sources musicales.
Billy Believe, ou comment faire oublier Survivor
Il faut le dire, j'avais détesté
Survivor
, leur disque précédent (
lire ici
), moi qui avais pourtant plutôt bien accroché depuis les débuts après l'excellent premier album
Nevermind The Living Dead
. Outre les critiques, j'avais donc marqué un certain désintérêt pour le groupe depuis ce temps. Pourtant l'album
Pursuit
(2012) était très réussi (
lire ici
), notamment car ça a donné à Yuksek l'idée de ce remix super groovy de
Brother
. OK c'est un remix, mais peu importe.
Stuck in the Sound, retour aux débuts
Sur Billy Believe, le club des 5 revient à un son et des compos plus proches des débuts. L'inaugural Forever Days rassure d'emblée sur ce point avec sa mélodie accrocheuse. La voix de José Reis Fontao est intacte.
Pourtant je n'accroche pas avec tous les nouveaux morceaux, à l'image du single « Alright » et ses « pop pop pop pop » grossiers et mal inspirés. Peu m'importe que le groupe ait dépassé le million de vues sur Youtube. En plus des tubes que sont Serious ou Unlovable, le groupe s'essaie à quelques nouveautés discrètes (tiens, une voix féminine !) et assure ses arrières sur des hits qui semblent taillés pour la scène (Vegan Porn Food, Radioactive God Explosion).
Globalement, c'est un retour très réussi que je vous encourage franchement à voir en concert (le 9 mai au Trianon à Paris par exemple, une tournée suivra), car Stuck In The Sound fait partie des quelques groupes qui m'ont mis
une claque en live
.
Quelle bière boire en écoutant Billy Believe de Stuck In The Sound ?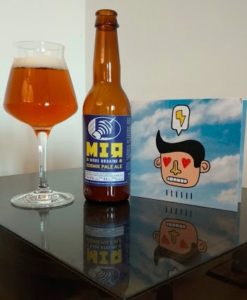 L'association m'a semblé assez évidente avec la Kosmik Pale Ale de la
brasserie MIR
. MIR, c'est pour Made In Romainville, c'est à dire à quelques encablures de Montreuil, dans le 93. (D'ailleurs, la brasserie serait-elle
amenée à déménager
?) Parce que je trouvais ça cool de rester dans le côté très urbain qui est aussi bien celui de la brasserie que de Stuck In The Sound. La Kosmik Pale Ale peut sembler assez classique, genre « on maîtrise les bases », mais apporte sa petite amertume et une finale bien persistante qui a tout ce qu'il faut pour plaire. Donc une belle identité et un caractère qui iraient très bien pour éponger la sueur déversée par Stuck In The Sound sur scène. Et pour boucler la boucle, j'ai acheté la Kosmik Pale Ale chez
Beers & Records
, des gens très cools qui allient bières et vinyles… à Montreuil !