Pastel Coast – Hovercraft – Dream pop prometteuse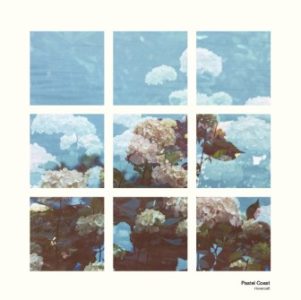 Pastel Coast – Hovercraft – Sorti le 30/11/19 (auto prod)

Le groupe de Boulogne sur Mer Pastel Coast sort Hovercrat, son premier album après plusieurs EP en tant que projet solo. Un bon condensé de dream pop pas trop planante sur un album très réussi.
Pastel Coast, nouvelle formule prometteuse
Pastel Coast est un groupe originaire de Boulogne sur Mer. Auparavant seul aux commandes, Quentin Isidore, la tête pensante, s'est finalement entouré d'acolytes pour passer en mode groupe. Bien mal lui en a pris. Car autant je n'avais jamais vraiment accroché avec le Pastel Coast d'avant, autant cette nouvelle formule tient toutes ses promesses.
Si l'entame s'affiche en douceur, sur un joli titre instrumental avec une trompette inattendue (qui revient plusieurs fois au cours de l'album), la suite nous renvoie directement à l'héritage indie pop de cette fameuse cassette C86. Always m'a tellement fait penser aux premiers Pains of Being Pure at Heart, et donc à cet héritage de Sarah Records, label emblématique de la scène indé britannique. La dream pop éthérée de Beach Fossils ou Wild Nothing n'est jamais vraiment très loin.
Pastel Coast, français discret
Pastel Coast réussit à faire converger ses influences sur des compositions rondement menées, évoquant autant Cure (l'intro de Aquarius !) que The Drums ou l'héritage Sarah Records/Cassette C86, en y mêlant aisément quelques touches de français tout à fait bien dosées (La Nuit, Kerry, Home). Moi qui peux être parfois un peu hermétique au chant en Français, j'y ai trouvé ici le bon équilibre. (Un peu comme ce que j'avais apprécié chez Somewhere Underwater en début d'année) Un équilibre que j'ai aussi retrouvé dans l'utilisation du synthé. Au rayon de la dreampop, il peut être souvent surexploité, ce qui n'est pas le cas ici. Autant il reste un élément central de l'album, autant il sait appuyer les mélodies comme il faut.
On pourrait reprocher à cet album une certaine redite (Vacation et Home, vraiment construits de la même façon sur la ligne de basse par exemple). Pourtant, Pastel Coast arrive à varier les compositions, à l'image de Zadig, titre sur lequel la voix s'affirme un peu plus.
Pour la redite évoquée plus haut, voyons-y plutôt une homogénéité (plutôt gage de qualité, surtout sur un premier album), même si j'aurais bien troqué l'un des trois morceaux instrumentaux contre une « vraie » chanson, pour justement gagner en homogénéité, en consistance. Quoiqu'il en soit, bravo pour ce bel album qui aurait tout à fait sa place chez Captured Tracks ! Le message est passé.
Pastel Coast était au Motel à Paris hier pour la release party, avant de retrouver l'Espace B le 10 décembre et une bonne petite tournée jusqu'en avril.
Quelle bière boire en écoutant Hovercraft de Pastel Coast ?
La brasserie Distrikt a une gamme de bière qui iraient très bien avec Hovercraft de Pastel Coast. J'ai choisi la Groovy pour son côté facile d'accès, mais bien faite, avec sa touche de houblon délicate sur un ensemble très bien équilibré.