Mr Elevator & The Brain Hotel – When The Morning Greets You With A Smile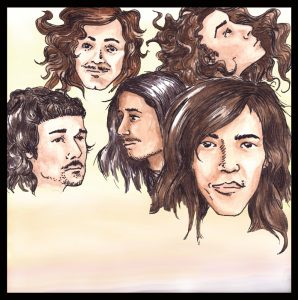 Voilà un groupe qui a parfaitement compris comment digérer le vent psyché qui souffle sur le rock indé actuellement. A l'heure où tous se contentent plus ou moins de faire du sous-Tame Impala noyant leurs compositions dans des nappes de synthé et réverb parfois douteuse, Mr Elevator & The Brain Hotel a choisi d'en garder le côté brut et totalement déjanté. En tous cas c'est ce qu'on croyait…
C'est en sélectionnant des morceaux pour
la playlist de février
que je suis tombé sur ce groupe dont je n'avais jamais entendu parler. J'ai tout de suite adoré ce nom complètement farfelu, ne sachant pas s'il fallait que je m'attende plutôt à un délire dans la lignée des Flaming Lips ou à énième sous-Tame Impala virant vers un rock réverbo-synthétique mainstream douteux. En allant sur
leur page bandcamp
, j'avais déjà une indication avec les fleurs et étoiles qui ornent leurs morceaux. Le design du site de
leur label Burger Records
en dit long également (oui, je vais fouiller tout ça avant d'écrire une chronique !). D'ailleurs, c'est en collaboration avec le
label Rad Cat Records
qui est dans la même veine.
Lollipop déjantée
Et la surprise fut largement au rendez-vous, dès l'entame au titre annonciateur de lollipop déjantée : Morning Greets You With A Smile ! D'ailleurs, les titres de l'album en disent long sur l'humeur « good trip » de ces joyeux lurons (Sunshine Daydream, Dreamer, Are You Hypnotized?, Cosmic Bloom). Et donc ce titre inaugural respire les bons synthés 70's sur une batterie assez brute, l'ensemble n'est pas noyé dans la réverb (même s'il y en a un peu).
Et dès cette accroche, c'est un
train infernal de chansons farfelues
qui défile, le tout sous couvert de bonne humeur 70's et entrecoupé d'instrumentaux qui viennent apaiser un peu l'ensemble (l'évocateur
Are You Hypnotized
). Ah mais la voilà notre dose de nappes de synthés, elle débarque sur
Intro
(que l'on retrouve en milieu de disque) ! Il faut dire que MR Elevator ne compte aucune guitare dans ses effectifs, et c'est plutôt
l'influence Ray Manzarek
(clavier des Doors) qui est mise en avant. On appréciera ce
Dreamer
aux consonances de
Mr Kite
des Beatles, quelque part un peu gâché plus tard par l'horrible vocoder sur
Tears of Green
et sur une fin d'album moins convaincante.
L'air de rien, le groupe semble en effet plonger vers ce neo-psyché évoqué au début. Let Me Be, Ending ou même Cosmic Bloom plus tôt font malheureusement un peu oublier le côté brut des premiers morceaux pour se perdre dans les méandres de la réverb. Finalement, King Gizzard & The Jesus Lizzard et Tame Impala (période Innerspeaker) n'étaient pas si loin !