Hotel Lux – Hands around the Creek – Exotisme anglais
Hotel Lux « Hands Around The Creek » | Album sorti le 27/01/2023 | The State51 Conspiracy
Des mecs de Portsmouth qui s'installent à Londres. Du post-punk. Du spoken word. Oui mais Hotel Lux est plus que ces poncifs repris à gogo par la presse spécialisée. C'est en quelques sortes comme si Art Brut écrivait des morceaux avec le Blur des débuts sur une plage brésilienne.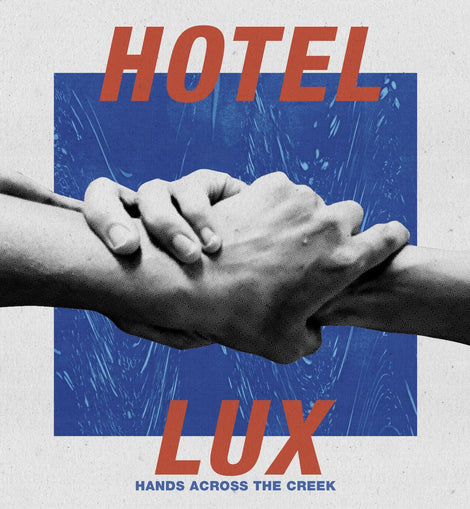 Hotel Lux, le renouveau du rock anglais ?
On peut parler de nouvel élan du rock anglais ces dernières années, lui qui a pas mal été éclipsé par une Amérique et une Australie plutôt prolifiques en matière de rock indé (Kevin Morby, Ty Segall, Bodega, Parquet Courts, King Gizzard, The Strokes, Tame Impala,). Et puis des groupes comme Squid, Black Country New Road, Shame, Black Midi sont venus montrer que la perfide Albion en a encore dans ses amplis de guitare. (Et comme j'ai dit anglais, je ne parle pas des immanquables gallois de Idles ou des irlandais de Fontaines D.C). Hotel Lux pourrait en faire partie. A une différence près : que ce groupe so british a aussi trouvé une touche d'exotisme qui lui permet d'appliquer une formule ultra efficace avec sa touche de personnalité. (Je n'insinue pas que les groupes précités n'ont pas de personnalité !)
Hotel Lux, une touche vraiment personnelle
Un shaker par ci, des congas par là, des synthés rétros. Le reste de la formule est connu : des riffs accrocheurs, un album sans temps mort (quoique… on en parle plus bas), et une voix qui définit la personnalité du groupe. Certes j'ai souvent pensé au rock d'Eddie Argos et son groupe Art Brut, pour celles et ceux qui s'en souviennent.
Les refrains sont parfois fédérateurs (Common Sense, National Team), mais Hotel Lux sait aussi nous embarquer en mettant à mal nos repères. Eastbound and Down a bien un refrain, mais il est inchantable. Normal, il est parlé. Et pourtant, Hotel Lux a ce pouvoir d'attraction qui donne envie de suivre. Et puis il y a les touches d'exotisme, comme sur Old Timer ou Strut. Le rythme est chaloupé, parfois rétro (Points of View) La surprise vient également de cette pause acoustique avec Morning After Mourning qui rappelle les moments les plus sincères de Pete Doherty, suivi de An Ideal For Living qui malgré l'absence de session rythmique et la mise en avant de la guitare acoustique, sonne comme un hymne générationnel, comme Solidarity Song qui clôt l'album. La bonne surprise de ce mois de janvier.