El Botcho, « Three is a magic number », sunshine pop mélancolique parfaite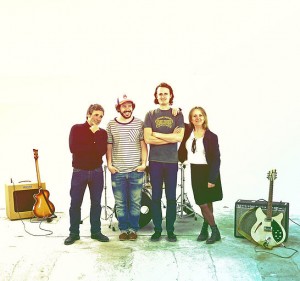 El Botcho est un groupe français originaire de Toulon, et que l'on connaît bien sur ces pages. Très marqué par la pop des années 60 puis une bonne partie de la britpop des 90's (est-ce un pléonasme ?), le groupe revient avec son troisième album qui confirme son talent d'orfèvre pop.
Une certaine idée de la pop
Remettons les choses dans leur contexte : à la tête de El Botcho, on retrouve Alex Telliez-Moreni, qui gère aussi avec passion l'excellent label Toolong Records, une maison qui défend et valorise une certaine idée de la pop. Celle que l'on aime aussi.
Voilà donc près de deux ans que l'on suit et soutient activement l'actualité de la maison toulonnaise. Et bim, El Botcho nous annonce une double nouvelle : son nouvel album, et, moins réjouissant, sa séparation ! (eh oui, deux membres du groupes qui se séparent, pas facile de continuer l'aventure comme si de rien n'était). Insolite, et ce n'est pas un coup marketing. Ce n'est pas le genre de la maison.
Hard times
Le ton de la rupture est donné d'emblée avec les titres de l'album. L'album commence par « Sadly – Here Come The Hard Times » et termine par « Let's Pretend You're Just My Friend« . Une conclusion à « You've Got To Be My Girl » de l'album précédent ? Musicalement, on sent aussi un peu plus de mélancolie.


Si Wendy s'affiche comme le titre le plus pop, il a (avec le contexte que je viens de planter) un goût de fin de colonie de vacances. En gros, super ambiance, tout le monde est joyeux, mais on sent que tout ça sera bientôt fini. L'ensemble de l'album est plus calme, plus balade.
Silly Sound rappelle l'intro de Everyday Is Like Sunday de Morrissey et s'aventure vers des terrains un poil moins pop. Un peu la touche Georges Harrison ? Madeline réjouit par la clarté de la guitare qui vire gentiment noisy.

Et ce qui frappe au global, c'est l'étonnante facilité d'Alex Telliez-Moreni à composer des pop songs d'une évidence bluffante. Tout coule naturellement, les accords et autres arrangements sont des « success stories » à présenter à l'école de la pop. Une école de la pop qui ne serait autre que la maison Toolong ? On n'en doute pas.
———-
Par Jérémie – Elevé aux Stones/Beatles puis à la britpop, aime aussi les variations Goldberg de Bach et le jazz. Résolument indé.
Article rédigé après avoir écouté le seul album de The Sleepy Jackson, « Lovers » sorti en 2003. Sur fond de Pologne-Portugal aussi. Ecoutes du moment : Popincourt, Beach Baby, The Kills.
Pour suivre les news de rock indé, suivez Merseyside sur les réseaux sociaux :