El Botcho – Ecoute exclusive et 5 EP dédicacés à gagner ! [Concours terminé]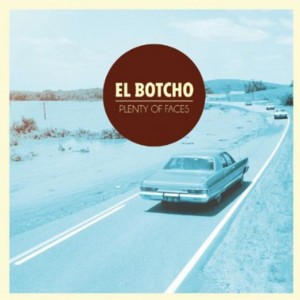 El Botcho est un groupe gonflé à la pop des Kinks et des Beach Boys qui envoie l'air de rien de petits tubes gorgés de soleil. Ils ont choisi Merseyside pour dévoiler leur EP en avant-première !
El Botcho, c'est ce doux patronyme aux allures de truand mexicain, ce côté à la fois ensoleillé et piquant. On l'imagine en mode moustache/sombrero, guitare en bandoulière. Mais tel un nachos au piment inconnu, El Botcho brouille les pistes et parle… allemand ! Ou plutôt parlera allemand en octobre. Il saura dire « Jetzt und nie« , titre de son album. Mais en réalité, notre Botcho est… Français !
On résume : El Botcho nous vient de Toulon et distille une pop ensoleillée cultivée sur l'héritage des Kinks, des Beach Boys et d'une certaine vague britpop. Un peu comme les compères de The Crumble Factory avec lesquels des dates sont en train de mûrir. Idem avec les locaux d'Appletop.
Plenty of Faces sent bon le soleil (et le Mexique sur la fin !), Meredith's Closet, c'est un mix entre une version lente de Mansize Rooster de Supergrass et des chansons de Blur. Peaches All Around pourraient s'apparenter au rock indé des Shins avec une touche Dandy Warhols sur les « every dayyyyy » de la fin. Bref, que de bons ingrédients !
Exclusivité en avant-première !
Pour fêter la sortie de son nouvel EP « Plenty of Faces« , El Botcho a choisi de diffuser en avant-première mondiale (oui, vous avez bien lu !) son EP en exclusivité sur Merseyside.fr, le seul site sur lequel vous pouvez écouter ces pop song gorgées de soleil avant la sortie officielle. Et ce n'est pas tout… Ecoutez déjà :
5 EP dédicacés à gagner
Toolong Records et Merseyside te font gagner 5 exemplaires… dédicacés ! Eh ouais, rien que ça ! Pour avoir une chance de gagner ton exemplaire unique de tout l'univers, c'est simple :
Mets-nous un petit message sur le mur Facebook Merseyside en disant que tu veux gagner. Idéalement, un petit like de la page fait toujours plaisir, sans oublier celle de El Botcho.
Appelle tes potes, va boire des bières, va à des concerts et parle de El Botcho !
Attends un peu qu'on te contacte pour te dire si tu as gagné !
Alors, ça sent pas bon les vacances tout ça ?
Liens utiles

Pour suivre les news de rock indé, suivez Merseyside sur Facebook :
http://www.facebook.com/merseysideband