Live report : Neil Young à l'Accorhotel Arena (Paris) le 23 juin 2016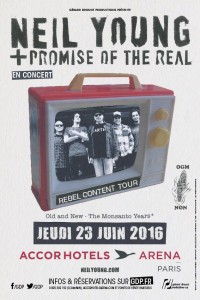 Neil Young fait partie de ces rares artistes ayant commencé leur carrière dans les années 60 à ne pas vivre sur leurs acquis et à continuer encore et toujours (peut-être un peu trop même) à sortir des albums contre vents et marrées des nouvelles tendances. Ainsi, en 2015, le Loner sort un quarantième album studio, « The Monsanto Years » accompagné pour l'occasion d'un nouveau backing band, Promise Of The Real, groupe du fils de Wille Nelson, musicien de country. Un album militant autour de l'agriculture intensive industrielle, l'un des thèmes chers à Neil. Et forcement, qui dit nouvel album, dit nouvelle tournée. Ainsi Neil Young est de retour en Europe (pas moins de 5 dates en France) dont un passage à la toute nouvelle Accorhotel Arena le 23 Juin dernier.
Trop cher, trop souvent, trop de couacs…
L'atmosphère est suffocante à l'intérieur de l'Arena qui peine à se remplir faute sans doute au passage régulier de Neil Young à Paris, mais surtout aux prix ridiculement élevé des billets (80€). Les tribunes supérieures sont fermées et la fosse remplie au deux tiers. La première partie qui commence avec 20 minutes d'avance (encore un gros problème d'organisation de l'Arena…) est assurée par Charles Pasi, un jeune parisien accompagné d'un guitariste. Le duo nous propose une folk/counrty qui ne dénote pas avec le style de Neil Young. Une première partie bien courte, à peine vingt minutes pour le moins assez agréable mais loin d'être inoubliable.
Magnifique introduction solo
The Loner débarque sur scène à 20h45 seul, courbé, chapeau vissé sur la tête. Ovation ! Il s'installe au piano et entame le concert par le classique et sublime « After The Gold Rush », titre sorti en 1970 et déjà à connotation écologiste. Pour occasion, le vers « Look At Mother Nature On The Run In The 1970's » est remplacé par « In the 21st Century ». Neil se mets à la guitare acoustique, toujours seul mais jamais sans son harmonica et enchaîne avec "Heart Of Gold", « The Needle And The Damage Done » et « Comes A Time ». Que dire ? La voix est encore excellente et l'interprétation de ces classiques de son répertoire (et de l'histoire du rock) est exceptionnelle. « Mother Earth » joué à l'orgue conclura magnifiquement le set solo du Loner avant que son backing band Promse Of The Real ne le rejoigne sur scène.
Le calme avant l'orage…
Ils sont maintenant 6 sur scène avec pour seul décors des amplis vintage et de magnifiques instruments. Il ne faut rien de plus pour apporter de la valeur ajoutée aux compositions de Neil Young qui reste à la guitare acoustique et propose « Out On The Weekend », « Old Man », « Human Highway », l'anecdotique et inutile reprise de « La Vie En Rose » chanté par Lukas Nelson et « Someday ». L'ambiance est à la Country. Le Promise Of The Real fait le job et le fait très bien ! C'est après cette séquence Country que Neil Young troque sa Taylor contre sa Gretch blanche qui annonce la montée d'un cran dans l'intensité électrique du set.
Ainsi, ce sont les morceaux « Alabama », « Words », « Winterlong » et « If I Could Have Her Tonight » qui sont joués. Le concert prend alors une tournure clairement rock !
Une tempête de décibels
Mais ce n'est encore que le calme avant la tempête qui s'annonce. Neil saisie alors sa légendaire Gibson Les Paul « Old Black » pour nous livrer une fin de set démentiel dans un déluge de décibels. Au programme des titres très rock, grunge parfois, laissant la place à de très, parfois trop longues improvisations. Au programme « Love To Burn », « Mansion On The Hill », « Everybody Know This Is Nowhere », « I've Been Waiting For You » et bien d'autres titres dont le célèbre, « Rockin' In The Free World » qui prend une connotation particulière dans le contexte de tension mondiale actuelle.

Young se livre à plusieurs reprises à de longues envolées à la guitare. Des solos sans aucune technique mais SA technique, celle qui a toujours fait sa marque de fabrique. Godlike genius ! Neil et le Promise reviendront sur scène pour un rappel d'un titre, « Like An Inca » de 15 minutes, rareté de l'obscure album Trans de 1982. Surprenant pour un dernier et ultime titre mais en tout cas très efficace !
Un concert exceptionnel
Nous ressortons de l'Accorhotels Arena conscient d'avoir assisté à un très grand concert tout en crescendo et qui a permis à Neil Young de proposer au public parisien un large panel de sa très riche carrière. Il fait partie de ces trop rares artistes qui profitent de leurs exceptionnelles carrières pour faire varier les setlist au maximum pour le plus grand bonheur des fan. Son parfait backing band est aussi bon sur des titres country, folk, rock que grunge. Très bien savoir s'entourer a toujours fait partie des qualités du Loner et il nous l'a encore prouvé ce soir. La météo n'avait pas menti, il y avait de l'orage dans l'air, mais l'orage était à Bercy ! Merci à Neil Young que l'on espère toujours revoir en forme très vite.
———-
Par François Delporte.
Pour suivre les news de rock indé, suivez Merseyside sur les réseaux sociaux :