Tropical Popsicle – Dawn of Delight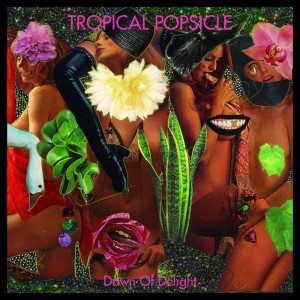 Tropical Popsicle est un groupe américain qui vient ajouter son nom à la liste des excellents groupes psyché de ces années 2010 (Tame Impala en tête de file), oscillant également entre les Byrds ou Echo And The Bunnymen.
Il est des jours où le petit rayon de soleil ne tient à pas grand chose. Ce fut le cas lorsque je fus contacté par l'excellent label bordelais Talitres, chez qui les brillants russes de Motorama sont signés. Avant d'écouter l'album, je partais donc avec un à priori assez positif, il faut l'avouer.
La pochette ultra-érotique en dit déjà long sur le côté "barré » du groupe et je m'attendais à un univers plus psyché. Finalement, les morceaux évoquent plutôt The Bees (sur l'album Free The Bees) comme Havana par exemple. On retrouve aussi le synthé des Doors qui confère une vraie touche 70's aux compositions (Always Awake In The Shadow, The Universe of Ghost Shadow) et pourtant il y a dans tout ça une patte new wave que n'auraient pas renié Echo And The Bunnymen au niveau structure musicale (Cathedral City, Tethers). Le single Ghost Beacons est très percutant, rappelant l'univers froid de Crocodiles (le groupe signé sur Herzfeld, pas le duo californien) avec à nouveau ce côté très Echo and The Bunnymen des 80's (sauf pour la voix) et une fin à la Stone Roses. On retrouve également l'esprit de Sparklehorse, sur Age of Attraction par exemple.  A noter également l'excellente Face B du single Ghost Beacons (Skulls In The Stars), très pop.
Une fois de plus, s'il fallait en douter, Talitres signe un excellent groupe à qui on souhaite le même succès que Motorama.

Pour suivre les news de rock indé, suivez Merseyside sur Facebook :