Motorama au Petit Bain le 19 septembre 2013
Motorama, c'est la révélation 2012. En plus, ils sont russes, alors ça fait un peu exotique au milieu de tous ces groupes anglais et américains. Ces nostalgiques de Joy Division (entre autres) signés sur l'excellent label indé Talitres, étaient jeudi dernier à Paris.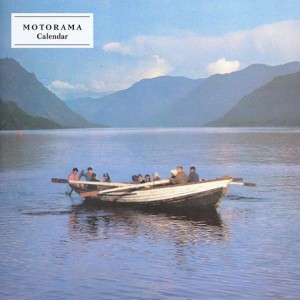 Le quintette monte sur scène relativement tard (21h40) dans une ambiance réservée, à l'image du groupe. Le groupe est en place, et c'est une bonne surprise car je dois dire qu'on s'attendait à un peu d'approximation. Que nenni, niet ! Certes la voix est un peu (trop)  en retrait derrière les guitares cristallines, dommage. On a l'impression que c'est un peu tout le temps le même morceau, mais pourtant on adhère à 100%. La quasi totalité de Calendar (et sa pochette qui rappelle Ocean Rain de Echo And The Bunnymen) y passe, avec les pierres angulaires que sont To The South, Image ou White Light. Le premier album Alps réédité cette année (merci Talitres Records) sera également amplement honoré. Les riffs de guitare se mêlent parfaitement à la batterie délicate et rythmée, qui donne des airs de Whitest Boy Alive sur Letter Home, tortillement de rigueur.

Pourtant le son nous rappelle bien que Motorama nous vient du froid. A la sortie de Calendar, je lisais les aventures de l'épopée française de Maurice Herzog et Louis Lachenal lors de l'ascension du premier 8000 mètres de l'histoire de l'alpinisme dans Annapurna Premier 8000. Pour accompagner cette épopée, c'était le disque parfait , froid, majestueux, élégant et nostalgique. Ce soir, Motorama a prouvé que son indie pop aux airs tantôt de Sarah Records, tantôt des Smiths (la guitare de Wind In Her Hair n'est pas sans rappeler Heaven Knows I'm Miserable Now) ou bien sûr de Joy Division était non seulement à la hauteur, mais aussi teneuse d'excellentes promesses. Reste juste à se lâcher un peu plus comme ils ont commencé à le faire, si toutefois la scène le permet, ce qui n'était pas le cas jeudi.

Pour suivre les news de rock indé, suivez Merseyside sur Facebook :