Foals – Holy Fire – Crise chevaline !
Les poulains de Foals reviennent avec leur feu sacré (Holy Fire) pour tenter de décrocher le tiercé gagnant. Mais attention, car à vouloir sauter trop haut, nos jeunes jockeys risquent bien de taper la barre qui les fera trébucher. Pari gagné ?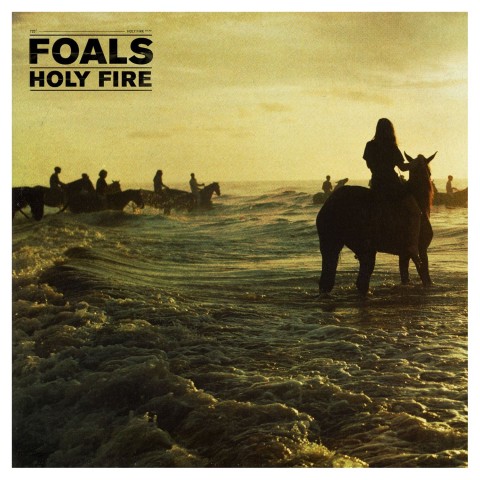 Yannis Philippakis se serait-il embourbé dans la fêta ? Car à vouloir trop en faire, les réjouissances de Antidotes et Total Life Forever semblent se diluer tout doucement dans l'huile d'olive au fil d'une course à la corde que l'écurie d'Oxford semble ne plus maîtriser. On avait pourtant misé cher pour que ces poulains apportent avec Holy Fire l'un des murs porteurs du rock indé de 2013. Un single dansant (My Number que l'on imagine très percutant en live) nous avait fait espérer. Puis vint un titre musclé façon Rage Against The Machine (Inhaler) qui sont les deux morceaux qui permettent de vouloir continuer l'écoute.
Pas de quoi enflammer ce Holy Fire pour autant. Car l'album aurait eu besoin d'un sacré coup de cravache pour rester en selle sur la durée. La production trop léchée et presque  pataude (Prelude, l'intro instrumentale) dessert des compositions parfois trop lissées (Bad Habbit qui pourait presque sortir d'un album de Coldplay, Out of The Woods, assez plat musicalement) ou poussives (Milk & Black Spiders met prêt de 4 minutes pour prendre réellement le galop).
Heureusement, la singularité de nos étalons permet de garder espoir au fil de l'album : ne boudons pas notre plaisir sur Late Night, le cousin de Spanish Sahara avec ses petites impros de guitare façon John Squire, ou sur Providence malgré ses fausses fins à répétitions un peu excessives. Mais voilà, la course se termine par deux balades à l'intérêt limité, notamment Stepson qu'on aurait juré extraite d'un album d'Embrace, c'est dire la platitude…
Au final, on ne crie pas au scandale comme certaines critiques lues sur la toile, mais il faut tout de même avouer que le fan de Antidotes et Total Life Forever se prend un vilain coup de sabot ! Réponse sur la scène de l'Olympia le 25 mars.