Palace – So Long Forever – Le cousin de Total Life Forever de Foals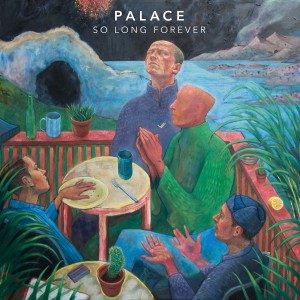 Palace sonne comme du déjà-vu. Du déjà-vu qui s'appelle Foals… Là on s'approche en effet de la bande de Yanis, période Total Life Forever. En fait, on y est carrément.
Foals forever ?
La référence est tellement évidente qu'elle saute directement aux oreilles. Si Foals a franchement évolué entre Antidotes et What Went Down (en mal diront certains), nul doute que le Total Life Forever, leur deuxième album reste l'un des plus réussis, des plus profonds aussi. Et les londoniens de Palace semblent l'avoir beaucoup… beaucoup écouté.
Il est toujours compliqué d'apprécier un groupe qui ressemble à un autre. D'ailleurs même le titre de l'album (So Long Forever) semble être une allusion non cachée. Alors il faut essayer d'en faire abstraction… Petit rappel quand même avant d'écouter Palace :
Un ensemble parfaitement maîtrisé
Je me suis laissé bercé par cette semi-balade (Bitter), les montées de voix sur It's Over qui pourrait rappeler les ambiances des Smiths ou de Jeff Buckley, la dynamique de Fire In The Sky et son élégant jeu de batteries et de sonorités diverses, la profondeur de Have Faith et ses notes/rythmiques malignes.
Donc oui, la recette fonctionne, et ceux qui n'ont jamais écouté Total Life Forever y trouveront leur compte. Les autres auront l'impression d'une redite évidente, en un peu plus plat, même si tout est quand même parfaitement maîtrisé. Mais voilà, Foals est passé par là avant. Dommage. Les tops de fin d'année retiendront peut-être Palace. La postérité peut-être pas…
Ce qui n'empêchera pas d'apprécier leur reprise de Mac Demarco :